Profile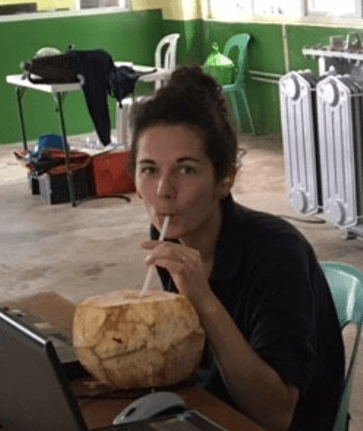 Jessica Poore
Curriculum Vitae
Education:

I went to an all-girls school in Cambridge, then a mixed school for 6th form. After that, I went to Imperial College, in London.

Qualifications:

I did 11 GCSEs, including maths and science but also English, Geography, Design Technology & French. For my AS & A-levels I took Physics, Maths, Further Maths & English Literature. At university, I studied Mechanical Engineering.

Work History:

My first job after university was with Scottish Power, doing design for electricity transmission systems (a bit by accident). After that, I spent 7+ years working for Gilkes, who make small hydroelectric (water) turbines and sell them all over the world!

Current Job:

Senior Project Engineer at NanoSUN

Employer:

My current employer is NanoSUN

We design and make equipment for filling vehicles with Hydrogen (instead of petrol or diesel). We're currently growing really fast as a company, as we try to develop new designs to fill a gap in current technology. One way to hugely reduce Carbon emissions is to use Hydrogen as a fuel – but where lots of vehicle manufacturers want to build Hydrogen-powered lorries, buses and cars, but they need a way to fill them, and that's where we come in! 
About Me

An outdoor-loving ⛺, cat-cuddling 🐈, renewables engineer 🌊 🌞

Read more

I work in Lancaster, and live with my husband nearby, with our two fluffy cats. 

We love to spend time scrambling in the Lake District and watching Bake Off 🎂🍰. I also play lots of hockey, I've been playing since I was 7! I'm still not very good, but I love to play anyway. 

My husband and I both love to travel, we have been really lucky to go to places like Africa with work, but we like to go on holiday when we can too! I especially like skiing, camping and spotting cool animals like snakes and monkeys.

My Work

I create a way to refuel cars and buses with Hydrogen - a green alternative to petrol and diesel. We are creating a brand new invention which is mobile (it can travel around) and able to refuel all kinds of vehicles.

Read more

I recently started a new job at NanoSUN. My company is very small right now, but we're growing really fast. We're developing a new invention which is like a mobile petrol station, but for hydrogen instead of petrol.

I work with other engineers who all have different specialist skills to make sure the different parts of our design all work properly together. Anything we want to include in our design creates lots of questions, like: How will it fit together? Will it break when we use it? Does it need power? It's up to me to make sure it all works and we don't forget anything! 

I also work with loads of people from other companies  who are involved with our product. This could be people we buy things from (suppliers), or people who use our product (customers). Hydrogen can actually be really dangerous, so we have to do lots of work to pass safety tests and make sure it's safe to be used.

My old job was making hydroelectric (water) turbines for Gilkes – to make power from water in rivers and small lakes. We designed and made them here in the UK, and then sent them all over the world to be used. I had to make sure it all worked together there too!

I also got to do a lot of travelling to different countries, where I had to do the final tests before the turbines could make power. I even went to the jungle in Malaysia for a month, to test a system there!

My Typical Day: I normally start work at around 9am, and meet a few people to plan our day. I might check some calculations, or talk to someone we're buying things from in the morning. I'll have my lunch with friends or my husband, and we also have a regular meeting every day to check everyone is doing ok. In the afternoon, I might do a safety study, where we get together as a group to think about what might go wrong with our design, and how to stop it, or I might plan some testing that we need to do on our product. What I do changes every single day, sometimes there's maths, sometimes it's all talking!

Read more

My typical day involves working from home most of the time at the moment, but we will soon be going back to work in the office! 

I usually try to do some exercise before work, and then start work around 9am. I work in a team of engineers, and we often get together in the morning to talk about our plans for the day. 

My day is never the same, but a few typical things I might do in the morning are:

Meet with other companies that we are working with to get things organised. 

Look at part of our design, and try to come up with improvements.

Check calculations or drawings done by someone else.

Make plans for testing that needs to be done by my team.

Have a cup of tea and a biscuit. 

I always take a break for lunch to have it with my husband (who I actually work with!) or some friends. It definitely helps my brain work better in the afternoon! 

In the afternoon, I might continue what I started earlier, or perhaps:

Do a "Design Review" where we all sit down together and talk about the design, so that everyone's ideas get to be included.

Take part in a Safety Study, where we think about all the things that might go wrong with our design (like: will it explode?) and how we can make it safe. 

Write some documents or a presentation to explain our design, or prove that it's safe to use.

Have another cup of tea. 

It's hard to describe a typical day, as it's always changing, but that's the best part!

What I'd do with the money

I would support STEMi Africa, who provide STEM education in person and online all over Africa by creating a course, and also donating money for materials.

Read more

I would support a charity, called STEMi Africa by creating a course in basic engineering concepts which could be made available for free on their e-learning platform, to give people the chance to learn for free! STEM education in many parts of Africa is not always as good as we are lucky to have in the UK, so I'm keen to support the development of anything that can help. 

This probably wouldn't cost much to do, so I would also donate any leftover money to the charity who will spend it on all kinds of educational materials, as well as getting people in Africa into science, technology, engineering and maths (STEM) education.

My Interview

How would you describe yourself in 3 words?

Cat-loving renewables engineer

What's the best thing you've done in your career?

The best thing I've done was going to Tanzania (in Africa) and to test and run a hydroelectric turbine which produced power for a farm. They didn't have reliable electricity before, but we left them with a turbine which used water from their river to give them electricity all around the farm. It was amazingly cool to arrive in a place without proper electricity, and then leave it a month later with everyone able to use the electricity generated from the river!

What or who inspired you to follow your career?

When I was young, I wanted to be in a Formula 1 racing team, which made me want to be an engineer. But as I learned more about engineering, I got more interested in all the different ways of making renewable power!

What was your favourite subject at school?

My favourite subjects were physics, english and design technology.

What did you want to be after you left school?

It's not very cool, but I always wanted to be some kind of engineer!

Were you ever in trouble at school?

Not much really!

If you weren't doing this job, what would you choose instead?

Probably a cake baker & decorator, or a zoo-keeper.

Who is your favourite singer or band?

Frank Turner is my favourite, but I love any music!

What's your favourite food?

Chocolate (especially those puddings with the melting middle), or roast chicken, but not together.

What is the most fun thing you've done?

Probably whitewater rafting in Costa Rica - it was really warm so you it didn't matter if you fell in!

If you had 3 wishes for yourself what would they be? - be honest!

My first wish would be for my parents to live closer to me, my second wish would be for more ways to fix climate change, and my third wish would be for a magically always-warm hot-tub.

Tell us a joke.

Hedgehogs. Why can't they just share the hedge?
---