Profile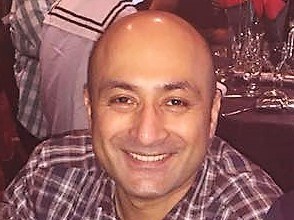 Manish Labroo
Curriculum Vitae
Education:

I did my schooling all over India as my father was an engineer in the Air Force and got posted to a new place every few years, I studied at 8 different schools in total (I counted!)

Qualifications:

Diploma in Hotel Management (1996-97), Bachelor degree in Engineering (1998-2002), Masters degree in Engineering (2003-04)

Work History:

Hotel Management Intern, Barman, Call Centre employee selling Motor Insurance, Selling Credit Card subscriptions, Petroleum Engineer, Senior Wells Engineer, Planning & Performance Team Leader

Current Job:

Performance Advisor for Wells

Employer:
About Me

I am an engineer who loves problem-solving, dogs, reading, watching movies, cartoons and memes. I love to travel, meet new people and learn about their culture.

Read more

I live in Aberdeen with my family. I have a dog (a big hairy Bearded Collie commonly recognisable as the Dulux dog) and we have plenty of adventures out and about. I can be found enjoying mostly sci-fi stuff (books, shows, anime) when indoors but also a through and through Batman fan. I am a Pride Ally at my place of work and try to help out in local schools as a STEM Ambassador or with Career advice for Academy pupils. My pronouns are he/him.

My pronouns are

he/him

My Work

I look after offshore oil&gas wells. This means designing the well, working out its cost, how long it will last (20 years) and how can it be removed at end of its useful life with minimal impact on environment.

Read more

I am a Wells Engineer. Engineering plays a vital role in oil and gas extraction. Engineers help build the structures we need to get oil and gas out of the ground before it can be processed. To get oil and gas from under the sea bed, engineers build off shore oil platforms. My job involves designing an offshore well, drilling it for prdoction of oil and gas, maintaining it for it's 20 years of design life, and disposing of it safely at the end of its design life. The thing i love about my job is that everything is huuuge – the size of machinery, size of structures and the money involves (millions of $$). Here's some photos to show how big everything is:

And because its offshore (under the sea), we use robots to go places where people can not. And sometimes we find fun stuff 🙂


My Typical Day: I start work around 8am, talking to people in my team spread around the world in Houston (USA), London (UK), Trinidad and Baku (Azerbaijan). We talk over video chat as everyone is working from home 2-3 days per week. We divide tasks between each other for every week to complete it together. I then break for lunch with my wife (also working form home) and my dog (Casper's always looking for scraps and scritches). Then i review some data using graphs and pictures, make presentations to explain what i have found and share it with other people.

Read more

It involves a lot of talking to different people and working with them – not just different types of engineers but also Finance folks (Accounting / Economics), IT professionals (excel, visuals), mathematicians, Geologists, Chemists, Accountants, Lawyers etc. We talk about how many wells are we drilling and maintaining worldwide, how many people we will need and how well can we do the job, laying pipelines to flow the gas that will get produced to places where people will be able to use it for cooking, heating, electricity etc.

What I'd do with the money

I'd use the money to create 'fun with science' workshops for schools

Read more

I have previoulsly used materials and informations for science workshop kits by my employer. These included a range of workshops for P1 to P7 pupils e.g. 'handy helpers' (importance of right glove for the right job) for P1-3s and Lego Robotics / Rocks&Fossil / Chromatography kits for P4-P7 pupils. All this has now got shut down due to Covid-19, so i'd use the prize money to make up new workshop kits for me to restart delivering 'fun with science' workshops at local schools again. I'd also design and put togther new science workshops based on ideas i have learnt as a STEM Ambassador.


My Interview

How would you describe yourself in 3 words?

dog-loving, sci-fi loving, batman-fan engineer

What's the best thing you've done in your career?

created things for others that can be used even after i am gone

What or who inspired you to follow your career?

my teacher, when i saw how huge everything is when humans have to design things that stand/float in the middle of a sea

What was your favourite subject at school?

biology

What did you want to be after you left school?

a travelling adventurer

Were you ever in trouble at school?

yes, many times

If you weren't doing this job, what would you choose instead?

Teacher or Gardener

Who is your favourite singer or band?

no single one

What's your favourite food?

Chicken wings

What is the most fun thing you've done?

Whitewater rafting and cliff jumping

If you had 3 wishes for yourself what would they be? - be honest!

to win the lottery, never to shave, and get 3 more wishes

Tell us a joke.

you sure? cuz i only got dad jokes!
---