Profile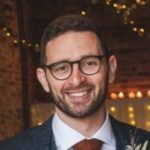 Tom Kitching
Curriculum Vitae
Education:

Hymers College (senior school and sixth form), University of Manchester

Qualifications:

10 GCSEs, 4 A-Levels, Masters Degree in Chemical Engineering

Work History:

Waiter at school, worked in a factory during summer at uni, Exxon Mobil oil refinery for a year, Fichtner Consulting for 4 years working in renewable energy, PM Projen where I am now working as a Project Engineer or Project Manager

Current Job:

Employer:
About Me

Sporty individual who enjoys spending time with his wife and new dog

Read more

I live in Yorkshire north of Leeds with my wife in the countryside.

I have a puppy called Lenny who is a Leonberger.

I play rugby for my local rugby team. I enjoy skiing, but have not been able to go in a few years because of a knee injury

I'm a big foodie and keen cook, and enjoy making (or at least trying to make) new recipes

I'm a big fan of all of the Avengers films, and must have watched the last Avengers film at least 5 times.

My Work

I help build factories and chemical plants that make a range of chemicals like food, paints, and fertilisers and all kinds of other things

Read more

When a company wants to build a new chemical plant, or modify or expand one of its existing plants, they normally ask another company to design and build the new plant for them. Our company does exactly that, and takes a clients ideas all the way from initial concepts through to its construction and testing.

The client will hand over details of what they want, and any existing drawings and documentation it has, then we take these and turn them into designs for a new plant.

Once we have agreed the design, confirmed its safe and will work, we will ask companies to price to build the plant and others to build the tanks and pumps and other equipment that will go into it.

We oversee the construction of the project making sure it is being built as per our designs, and make sure that all the companies working on it are working safely and on time and budget.

My role is project manager, so I not only manage our companies project team, but also the client's project team. I spend a lot of time in meetings, problem solving, and discussing how the project is going. But I also spend a lot of time managing the money spent on the project, managing the risks, and managing the progress against a programme.

Previously, I worked for a company who were involved in renewable energy and waste reduction by incinerating waste.

My Typical Day: I spend a lot of my time problem solving - whether that be on my own in an office or at home or in meetings with others. I get to speak to a variety of people, and learn about all kinds of different processes and companies.

Read more

I spend a lot of my time problem solving – whether that be on my own in an office or at home or in meetings with others. I speak to a wide range of people, including people within our company as well as clients, contractors, councils. Because I manage a team of people, I have lots of meetings with my team to see how they are getting on and to help resolve problems. I also have meetings with the clients who pay us to design and build their plants, to let them know how we are getting on and let them know of any problems, such as any delays or where we have spent more money than expected.

When we first get asked to work on these projects by companies, we go to one of their other plants or factories and see what they look like and see how big it is and what they want us to do etc.

Sometimes I go to the sites where the plants / factories are being built to see them being built, and occasionally to other if the project is abroad or if we are buying something from a different country. This is to make sure the plants are being built as we have designed and that it is on time.

What I'd do with the money

Prize money to host a competition for a sustainability challenge

Read more

Ask students to identify a waste product / energy and think of a novel way of re-using that product / energy. This could be a solid, a liquid, a gas, or a form of energy.

I'd want them to explain why they chose that particular product / energy, their idea of how they would re-use it, and any positives or negatives, thinking about cost, environmental impact, etc.

My Interview

How would you describe yourself in 3 words?

Rugby loving engineer

What or who inspired you to follow your career?

My love of maths and problem solving

What was your favourite subject at school?

Maths

What did you want to be after you left school?

An engineer - no idea what type at the time

Were you ever in trouble at school?

Doesn't everyone? If I forgot my PE kit, or if we were playing football somewhere we shouldn't be

If you weren't doing this job, what would you choose instead?

Own a shop where no plastic is needed and you bring in your own containers to fill them up

Who is your favourite singer or band?

Arctic Monkeys

What's your favourite food?

Roast Beef and Yorkshire Puddings

What is the most fun thing you've done?

Swimming with turtles

If you had 3 wishes for yourself what would they be? - be honest!

I wish my body wasn't as broken (I've had two lots of knee surgery), I wish I had done more travelling when I was younger, I wish I was a professional athlete

Tell us a joke.

I was asked my availability to coach a football team in Sheffield. I responded: "I can only manage Wednesday".
---