Profile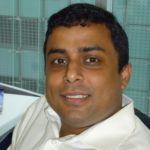 Arnab Nandi
Curriculum Vitae
Education:

Bengal Engineering College, Shibpur

Qualifications:

Bachelor of Engineering, Electrical

Work History:

Schlumberger, bp, Infosys

Current Job:

VP, Consumer Products, bp

Employer:
About Me

Energy transition geek, digital technology professional, fantasy reader

Read more

I believe technology can be a force for the good, and I apply that belief to solve complex problems facing humanity. At the moment, I am thinking deeply about enabling the green transition of energy.

I build product engineering teams, and we explore possibilities of digitally enabling this energy transition together. We research customer needs, build our hypothesis, prototype and test in market at a fast pace. Then we do it again! We learn and we scale.

Change programs I lead deliver small increments of value, and we celebrate small successes. We fail fast. But when I look back with my teams at our track record of transformation, we look back with pride.

I get geeky on lean thinking, devops, service design, performance engineering and programming languages at work, and on history, philosophy and fantasy outside!

My pronouns are

he/him

My Work

I work on consumer technology for retail and convenience at the moment. In the past, I have worked across the energy value chain from energy production to trading to corporate strategy.

My attributes

Curriculum link

My Typical Day: I wake up and workout for a bit. Some days I prepare the kids for school, and do the school run. Most days I am out of the house by 6:30 and at work around 8:00. My work needs me to collaborate across Australia, India, UK, US and sometimes Germany! So generally long days and back at home around 8:00 to just see the kids off to bed before dinner and retiring for the day.

What I'd do with the money

Give it back to engage on STEM on forums like this!
My Interview

How would you describe yourself in 3 words?

Engineer, bibliophile, fantasy reader

What's the best thing you've done in your career?

Worked on consumer tech that is accessed by 5M people!

What or who inspired you to follow your career?

Computer science

What was your favourite subject at school?

English

What did you want to be after you left school?

An engineer or a doctor

Were you ever in trouble at school?

Yes, many times, and have a head scar to show for it

If you weren't doing this job, what would you choose instead?

Write

Who is your favourite singer or band?

Dire Straits

What's your favourite food?

Sushi

What is the most fun thing you've done?

Family holidays to odd places, like the Sunderbans!

If you had 3 wishes for yourself what would they be? - be honest!

Travel as much as I can, work on the Mars mission, and be on the first flight to Mars
---