Profile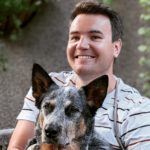 Ed Blackwell
Curriculum Vitae
Education:

Kelly College & Newcastle University

Qualifications:

GCSEs / A-Levels / Masters Degree in Mechanical Engineering / Chartered Mechanical Engineer

Work History:

Turkey Farm Delivery Driver / NHS Facilities Manager / Summer Placements with Babcock / Graduate Scheme in Rosyth Dockyard

Current Job:

Employer:
About Me

I live on a Turkey Farm near York 🦃. I am a nuclear mechanical design engineer and I play rugby union at the weekends 🏉. I enjoy travelling, cycling and walking my dog, Spike!

Read more

My wife's family have run a turkey farm between Leeds and York for the past 60 years and I help out at Christmas time.

I play for the local rugby team, Selby, at the weekends. I also go on long walks with Spike, who is a lively Australian Cattle Dog.

In 2016, before I started my full time job, my school friend and I drove a small car 10,000+ miles from London to Mongolia, as part of the Mongol Rally.

My pronouns are

he/him

My Work

I am a nuclear mechanical design engineer working on a building that will safely process nuclear waste.

Read more

I completed a 2-year graduate scheme after university in Rosyth Dockyard where I worked on an Aircraft Carrier Ship and Submarines. 🚢

I had the opportunity to build houses in Tanzania 🇹🇿 as part of a continued outreach programme organised by my company.

I have now moved to the nuclear industry, where my job is flexible, as my main office is in Warrington, where I visit my team twice a week for design meetings and project catch ups. 📐

I am currently part of a team who are designing a building that will safely process nuclear waste. The nuclear waste is made into glass to make it more stable for long term storage.

My attributes

Curriculum link

My Typical Day: I drive to the office an start work at 8am, where I design 3D models of mechanical parts on my CAD software. I meet with different members of my team in the afternoon to discuss the progress of the project. I go home at 4pm.

Read more

I have to do calculations and drawings to make sure my 3D model is going to be safe and easy to use in the real world once it has been built.

It is important to communicate with other members of the team, as my part maybe be affected by someone else's part. For example it may need an electrical connection for it to be powered, or it may need to be mounted onto a wall.

What I'd do with the money

Design an educational board game, to be used in schools, called "Keep the Lights On", where players have to work together to build an  energy mix for the UK that not only keeps the lights on but is also as sustainable as possible.

Read more

The idea style of game play is a mixture between Monopoly and Risk, but you are working together. The board would be a map of the UK and players would start in different locations, where they are given a certain amount of power generation pieces to start i.e. wind, solar, nuclear, coal or gas. These generate money to reinvest in more power generation pieces as you move through the game.

A roll of the dice moves players around the UK where they have to decide what to build in those locations. Scenario Cards or dice rolls could have a different affect on game play as you have to decide what do to when say for example a "freak weather event has put half of your wind turbines out of action for 5 dice rolls".

It could also be used as an educational tool to just visualise what the current energy mix looks like across the UK and/or the "perfect" energy mix that is required to meet the Net Zero 2030 targets.
My Interview

How would you describe yourself in 3 words?

rugby-playing nuclear engineer

What's the best thing you've done in your career?

Built houses in Tanzania for two weeks as part of a continued outreach programme.

What or who inspired you to follow your career?

I have always been passionate about engineering. I used to build things all the time and question how different mechanisms worked.

What was your favourite subject at school?

Maths & Physics

What did you want to be after you left school?

I wanted to continue to do the subjects that I was good at which led me to Engineering which combines everything.

Were you ever in trouble at school?

Sometimes - but I knew when to work hard and when to have fun.

If you weren't doing this job, what would you choose instead?

I would like to open my own Micro-Brewery!

Who is your favourite singer or band?

Bull - a local band from York who played at my wedding.

What's your favourite food?

Greek or Indian Food

What is the most fun thing you've done?

Drove a tiny car 10,000 miles from London to Mongolia.

If you had 3 wishes for yourself what would they be? - be honest!

Travel more / spend more time with friends & family / invent something that solves the clean energy and makes loads of money at the same time!

Tell us a joke.

What do Nuclear Engineers like to eat? Fission chips
---