Profile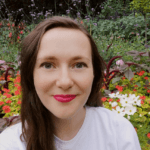 Rebekah Tait
Curriculum Vitae
Education:

Strathaven Academy, University of Glasgow and University of Strathclyde

Qualifications:

I have 8 Standard Grades, 6 Highers and 3 Advanced Highers from school (I'm from Scotland so we have slightly different exams to England!)Then a Masters degree in Physics and Astronomy.

Work History:

I worked in a local newsagent at weekends when I was at university. After I finished my degree I worked for a company called Emerson, where I helped to build and test gas analysers.

Current Job:

Currently, I am a PhD Researcher at the University of Strathclyde in Glasgow. My research looks at offshore wind energy in the UK, and how we can develop the industry in the future.

Employer:
About Me

I live in Glasgow with my partner and my dog Luna. I work as a PhD researcher in offshore wind. In my spare time I like to play video games, watch films and get out walks with my dog if the Scottish weather isn't too rainy!

Read more

I live in Glasgow (Scotland's biggest city!) and grew up in a small village about half an hour away from where I am now. I love dogs, and currently have a 2 year old Scottish Terrier called Luna who keeps me very busy! During the day I work at the University of Strathclyde where I am completing a PhD in offshore wind energy.

When I'm not working, I enjoy getting out walks  in the city with my partner and Luna – there are lots of nice coffee shops and cafes near where I live in Glasgow, so we are always spoiled for choice. If the wet and windy Scottish weather gets too much, you'll usually find me at home curled up with a book or watching a film! I also like playing video games, which is a good way to spend some hours on a weekend.

My pronouns are

she/her

My Work

I currently work as a PhD researcher looking at offshore wind energy in the UK.

Read more

My research looks at offshore wind energy in the UK. Offshore wind is one of the biggest ways that we generate electricity, so it is an exciting time to work in this field!

My work tries to bring together the engineering and economics sides of offshore wind. Basically, what decisions do the people building new wind farms make to do with where they buy their parts from, and how does this affect communities and businesses in the UK. For example, if a company buys something from a business in the UK, this money will be more helpful than if they bought it from somewhere else!

Curriculum link

My Typical Day: Currently, I work mostly from home! I also have a desk in the university where I can go and work if I want to get out of the house or have to meet people.

Read more

If I am working from home, I am mostly free to make my own hours – as long as I get through all the work I need to in a week! Usually I will start around 10am and finish around 6pm as I am not a morning person and this helps me be more effective with my day!

On days when I am working in the university, I walk from home which is about 35 minutes away – this is a good way to help me get some exercise! I will get a coffee and some lunch in the city centre near the university campus, and meet my colleagues for any meetings.
My Interview

What was your favourite subject at school?

Physics and Graphic Communication

What did you want to be after you left school?

An astronomer!

If you weren't doing this job, what would you choose instead?

I would be an astronomer, or I would love to work in special effects on film/TV

Who is your favourite singer or band?

Twin Atlantic (a Glasgow rock band) or Taylor Swift

What's your favourite food?

Pizza and pasta

What is the most fun thing you've done?

I was once on a TV gameshow!
---