Profile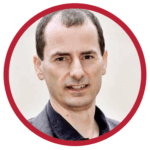 John Bridges
Curriculum Vitae
Education:

Qualifications:

I did O-grades, Highers, CSYS. At University I did a BSc in Geology and later a Diploma in Physical Science. I did a PhD at the Open University.

Work History:

Newspaper and letters delivery, hospital porter, Natural History Museum, Open University, laboratories in the United States, since 2007 I have been at the University of Leicester

Current Job:

Professor of Planetary Science
Favourite thing to do in my job: Explore the Solar System

About Me

I am a planetary scientist at the University of Leicester

Read more

I live in Leicester with my partner Sally and dog Harry. I teach undergraduates, PhD students and do planetary science research at the University of Leicester. my research includes studying materials from other planets , asteroids and Moons and studying planetary surfaces.

I am also on the Mars Science Laboratory  rover team.  I do rover operations work and analyse the results.  One of the fun things I get to do is name targets on Mars, in the last few years I have named over 1000 targets after geological localities and places in Scotland.

My Work on the ExoMars Mission

I'm on PanCam, Raman instrument teams and did a lot of work in the selection of the landing site - Oxia Planum

My Typical Day: I often teach in the morning , perhaps a lecture or tutorial and do research in the afternoon and evening. I was present at the Jet Propulsion Laboratory in the US, during landing of the Curiosity rover on Mars. It was nerve racking but ultimately a great success!
My Interview

How would you describe yourself in 3 words?

Determined, creative, hard working

What's the best thing you've done in your career?

Present at JPL during Mars rover landing

What or who inspired you to follow your career?

I remember drawing pictures of Saturn 5 rockets at Primary School...

What was your favourite subject at school?

I liked lots of subjects Science, History, English

What did you want to be after you left school?

A scientist

Were you ever in trouble at school?

Occasionally yes

If you weren't doing this job, what would you choose instead?

Something creative

Who is your favourite singer or band?

The Police

What's your favourite food?

Poached haddock

What is the most fun thing you've done?

Planning Mars rover operations

If you had 3 wishes for yourself what would they be? - be honest!

Analyse samples brought back from an asteroid, see ExoMars drilling in Oxia Planum (its landing site), get samples from the Mars2020 mission back from Mars

Tell us a joke.

What kind of song do planets sing? A Nep-tune
---