Profile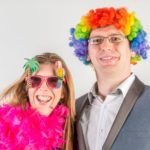 Steve Wright
About Me

I love F1 car racing 🚗 play the drums 🥁 listen to different music 🎶 watch a lot of YouTube 📺 At work, I try and get people to play nicely together 😁

My pronouns are

He/Him

My Work

I am a COO - Chief Operating Officer. I look after everything after a customer has bought something from us.

Read more

My job is a COO – Chief Operating Officer.

I look after everything after a customer has bought something from us.

This means making sure it is:

Made properly
Delivered and the customer is happy
It stays working for all the time
Have teams to fix problems if they happen

I started out doing web site graphics, but wasn't very good at that. Then I learnt how to build web sites and was OK at that.

My Typical Day: Check email and see if any customers had problems Chat with my team to make sure I know what is happening and anything I need to change

Curriculum Vitae

Education:

Middlethorpe Primary and Matthew Humberstone Secondary in Cleethorpes, then Springfield School in Portsmouth

Qualifications:

I left school with 2A*, 3A, 5B, and 1C. Then started working straight away.

Work History:

Web Designer, Programmer, Support Manager, Network Engineer, Network Manager, Network Architect, Operations Manager, Operations Director, COO

Current Job:

Employer:

4D was founded by David Barker when he was 14 in 1999!

Since then the business has changed a lot and in 2007, 4D Data Centres was created.

We run the big buildings where the cloud lives. Making sure it has the power, cooling and internet access to work all day everyday.

Our Support team are available everyday – 24/7/365 in any emergency.

We also offer advice and guidance for our customers.

Our colocation data centres have won multiple awards for being green and sustainable which is really important!

My Interview

What's the best thing you've done in your career?

Made sure the streaming for Prince William and Princess Kate worked!

What was your favourite subject at school?

Physics

What did you want to be after you left school?

A web designer

Were you ever in trouble at school?

Of course 😇

If you weren't doing this job, what would you choose instead?

Something still working with customers!

Who is your favourite singer or band?

Tough choice; Linkin Park or Jay-Z

What's your favourite food?

Mexican

What is the most fun thing you've done?

Skydiving

Tell us a joke.

What key opens a banana? .... A monkey!
---