Profile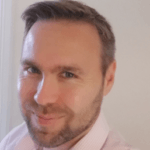 Graeme Cunningham
Curriculum Vitae
Education:

Hunter High School, East Kilbride – University of Strathclyde, Glasgow – Institute for System Level Integration, Edinburgh – Edinburgh Business School, Edinburgh

Qualifications:

Standard Grades in Maths, English, Computing, Technical Studies, Physics, Chemistry, Modern Studies, Latin Higher Grades in English, Maths, Physics, Chemistry, Computing BEng in Electronic and Electrical Engineering MSc in System Level Integration Postgraduate Diploma in Business Administration

Work History:

Motorola – Design Engineer – Designing chips for mobile phones

Current Job:

Employer:

Renishaw PLC
About Me

Systems Engineer and Project Manager from Edinburgh.

Read more

I live in Edinburgh with my partner and our two children, who are 7 and 4.

In my spare time I coach rowing with Heriot Watt University Rowing Club and am the Team Manager for the Scotland Rowing Team.

I am a fan of the Scotland Football and Rugby Teams 🏴󠁧󠁢󠁳󠁣󠁴󠁿

My Work

I help design robots that are used to build cars and aeroplanes.

Read more

I work as part research and development team.

We design and build probes that are used on co-ordinate measurement machines (CMMs).   CMMs are used to measure components that are then used to build things like cars or jet engines where the parts need to manufactured very accurately.  These probes can measure the size and shape of objects by touching them or by using cameras.

My job is as a Systems Engineer and Project Manager.  This means that I am responsible for ensuring that all the different parts of probes work together  including the electronics, mechanics and software.

I also have to ensure that everyone working on creating the probe are working efficiently and that the probes are safe to use.

What I'd do with the money

I'd like to fund an activity that combines engineering and sport....maybe with an Olympic theme! ◯‍◯‍◯‍◯‍◯

My Interview

How would you describe yourself in 3 words?

Love Rowing & Engineering

What was your favourite subject at school?

Computing

What did you want to be after you left school?

Astronaut

If you weren't doing this job, what would you choose instead?

Sports Coach

What's your favourite food?

Chicken Curry

If you had 3 wishes for yourself what would they be? - be honest!

Two wishes is fine, I'm not greedy. Scotland to win the Football World Cup. Scotland to win the Rugby World Cup.

Tell us a joke.

What do rocket scientists use during Christmas if they hurt their foot? Mistletoe!
---