Profile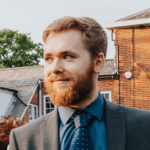 Michael Jones
Curriculum Vitae
Education:

Sevenoaks School, Imperial College London

Qualifications:

GCSEs, International Baccalaureate Diploma, Master's Degree in Mechanical Engineering

Work History:

Year in industry at Atkins working in the nuclear sector, summer placement at Culham Centre for Fusion Energy, private tutor, Academic Mentor and Leader with Imperial College Outreach

Current Job:

PhD student at Imperial College London in department of Mechanical Engineering

Employer:

Imperial College London
About Me

An engineering PhD student with previous experience working in the nuclear industry and also very enthusiastic about space. An avid gamer, cyclist and general lover of sunshine and the outdoors.

Read more

I'm a PhD student at Imperial College London. I live in Brixton and originally I'm from Bromley in south east London. I am an avid PC gamer, my favourite games are Dark Souls, Fallout 3, The Witcher 3, Dead Space 2 and pretty much anything from the Battlefield series. I also love playing the guitar, going cycling and doing archery. I'm also an enthusiastic home cook, my favourite thing to make for myself is a Brazilian/Portuguese dish called Feijoada.

My Work

I am developing testing methods for understanding the behaviour of metals which are used at high temperature to make sure that nuclear power plants can run safely.

Read more

I am studying something called creep crack growth. Creep is a type of deformation that occurs in metals only at high temperatures. If a load is applied to a metal at above roughly one third of its melting temperature then it can keep on deforming, even if the load is not increased. If a metal keeps deforming in this manner then eventually a crack can begin to grow. In my work I am trying to better understand the data that we get from carrying out creep crack growth tests on specimens in a laboratory so that we can predict how and when metals will crack in their operation life.

My Typical Day: Currently mostly writing my PhD thesis! But I might also be setting up experiments in the lab, carrying out simulations, processing data in Excel to make graphs or writing up my results in a report.

Read more

Given the state of the pandemic my workplace is currently my living room so my typical work day currently involves mostly sitting at my desk at home! I can do a lot of my work from my computer. I might be running a simulation of how material deforms and fails using a method known as Finite Element Analysis, or I might be crunching data that I've collected in one of my experiments. At the moment I'm also spending a lot of time writing up my PhD thesis which is a massive report (200-300 pages!) that I have to submit in order to get my PhD. I also do go into university occasionally to set up experiments. This involves tying temperature measurement equipment to my specimens, then installing them in a furnace and setting up other equipment to measure how much my samples deform in a test. I am working on creep which causes metals to deform really slowly, my tests normally take a month or more to finish, so I don't go into the lab too often.

What I'd do with the money

Donate to the Tutorfair foundation to provide maths lessons to underprivileged students.

Read more

The Tutorfair foundation is the volunteering branch of the private tuition site, Tutorfair. Their aim is to provide free maths tuition to students who don't have access to paid private tutoring lessons.

My Interview

How would you describe yourself in 3 words?

Nuclear + space engineer

What's the best thing you've done in your career?

Published my research in a peer reviewed journal

What or who inspired you to follow your career?

The need for clean and sustainable energy

What was your favourite subject at school?

Physics

What did you want to be after you left school?

An engineer

Were you ever in trouble at school?

Rarely

If you weren't doing this job, what would you choose instead?

A blacksmith

Who is your favourite singer or band?

Green Day

What's your favourite food?

Pretty much anything Japanese

What is the most fun thing you've done?

Went on my longest ever bike ride with my girlfriend

If you had 3 wishes for yourself what would they be? - be honest!

To provide clean and sustainable energy for humanity, to save the world's oceans and forests, and to have a house on the edge of a forest next to a lake with easy access to some amazing cycling routes.

Tell us a joke.

What do nuclear engineers like to eat? - Fission chips!
---