Profile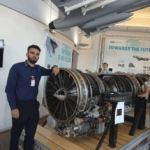 Zakir Hussain
Curriculum Vitae
Education:

Holmfirth High School, Greenhead College, University of Manchester

Qualifications:

12 GCSE's which included some extras in Mathematics. 3 A-levels Biology, Chemistry and Mathematics. Bachelors and Masters in Chemical Engineering.

Work History:

I had a part time job before GKN Aerospace where I worked in a pharmacy as a dispenser.

Employer:
About Me

I enjoy gaming, going to the gym, watching documentaries and traveling!

Read more

I have lived in Bristol now for 9 months, I haven't been able to explore much as we have been in lockdowns but I am looking forward to see what this city has to offer!

Prior to living here, I used to live in Portsmouth which was really enjoyable as it was near the sea side!

My home is Huddersfield, my family and friends are live there, I visit as much as I can mainly because of the great ice-cream hahaha!

My Work

My work involves me looking at new technology and ways of making the company greener

Read more

My role involves me looking at new technologies that GKN Aerospace could get involved in. This can include using planes which don't have pilots and using different types of fuels which are better for the environment. Also, I am involved in looking at the sustainability of the whole company to make sure we are more environmentally friendly!

My Typical Day: I usually wake up around 8am and my day starts out as everyone else. At around 9am I get started with my work, every day has new and exciting challenges! During the evenings I go to the gym, or at least used to…… Later in the day, I usually catch up with friends virtually and may watch an interesting documentary related to how planes are made!

Read more

My working hours will involve me reading about new technologies related to airplanes. This could be looking at planes without pilots, greener fuels and how to make the company greener. A mix of meetings, discussions, reading and research sums up my working day!

What I'd do with the money

Depends on how much I have but something for helping make the planet greener, building schools in poorer countries and helping give water to countries who struggle with this.

Read more

I would use the money to raise awareness on sustainability for the younger generation. I would also provide them easy ways for them to improve their sustainability, jobs they could peruse, projects they can get involved in and finally the ways in which different education paths can help contribute to making a better world!

My Interview

How would you describe yourself in 3 words?

Creative, inquisitive, motivated, team player and learner.

What's the best thing you've done in your career?

Leading a team who are making a sustainability module which will be used by all our engineers!

What or who inspired you to follow your career?

Helping to connect families and friends all over the globe

What was your favourite subject at school?

Mathematics

What did you want to be after you left school?

I went to college for further education and got some work experience to see what type of things I may want to do at Uni

Were you ever in trouble at school?

Always, hahaha!

If you weren't doing this job, what would you choose instead?

Something in healthcare

Who is your favourite singer or band?

I don't really have one :(

What's your favourite food?

Pizza!

What is the most fun thing you've done?

Winning in monopoly…

If you had 3 wishes for yourself what would they be? - be honest!

To live forever, to be able to fly and always be able to have a good night's sleep.

Tell us a joke.

What do you call a wolf that knows what's going on? Awarewolf!
---