Profile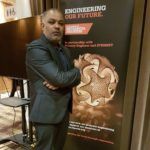 raam shanker
Curriculum Vitae
Education:

Masters' Degree from University of Sheffield, Bachelors' Degree from VTU India

Qualifications:

Work History:

Wilde, David Brown Gear, Tata Steel, Equitus Engineering Limited

Current Job:

Founder, Equitus Engineering Limited

Employer:

Equitus Engineering Limited is a SME mechanical engineering and innovations company. Their three areas of service are mechanical engineering solutions, engineering led product development, and engineering driven innovation. A people centric approach is at the core of what they do.

Equitus is a combination of two words; equilibrium, meaning a state of balance and stability, and impetus, meaning the force that makes things happen. It is also an allusion to the word equity, with the intention of being fair and impartial to everyone they deal with.

Their vision is a better engineered world

Their mission is to keep people at the heart of everything, whilst applying engineering to drive innovation, develop products and solutions, and be effective, consistent and efficient in this pursuit.
About Me

Geek by Nature, Engineer by Passion

Read more

I live in Manchester with my wife, who is a psychologist. I love sport, particularly football, ruby union, cricket and formula 1. I love cars and aircraft, and love plane spotting! I listen to a lot of music, particularly rock, and Indian music.

I love food, pretty much most cuisines from all over the world. I also love working out and swimming.

My Work

I Love Being an Engineer, as I Believe I Help in Changing the World

Read more

I am a Chartered Mechanical Engineer and started my career, following my Masters Degree working on engineering analysis in the structural and fluid mechanics domains. During my career so far, I have successfully executed and played a vital role in projects for clients operating in various industry sectors such as oil & gas, offshore & marine, health care & biomedical devices, nuclear and heavy machinery to name a few.

My next opportunity found me working on gear systems and renewable energy. I was the lead stress engineer with the project team tasked with certifying what was then the UK's biggest wind turbine gearbox (7MW) with Samsung Heavy Industries as the end client. My work here gave me valuable exposure to the offshore, marine and renewables energy sector and reintroduced me to the world of mechanical power transmission and gear systems.

I then moved to the nuclear sector where I was part of the team responsible for being awarded a multi-million pound contract from Sellafield Limited in the civil nuclear decommissioning sector, with my area of focus being engineering, technical and delivery. I was also the lead engineer with the project team that undertook the delivery of a spent fuel transportation module for Rolls-Royce.

I've always had an entrepreneurial desire which was the driving force behind my founding of Equitus Engineering Limited in May 2015.

Read more

My work day involves looking after the day to day activities of Equitus Engineering Limited. I am either doing technical work or spend time at events talking about the work we do to people and explain ourselves to them. The thing is, there is no such thing as a typical working day for me.

What I'd do with the money

Put the Money back into Schools

Read more

I went to a few schools in Greater Manchester as a STEM Ambassador, earlier this year and was amazed by the commitment of the students, and staff. The money I win will be used to fund their STEM activities.

My Interview

How would you describe yourself in 3 words?

resilient, confident, relaxed

What's the best thing you've done in your career?

Help develop what was then the UK's biggest wind turbine gearbox

What or who inspired you to follow your career?

My parents

What was your favourite subject at school?

Physics and Maths

What did you want to be after you left school?

F1 Driver or Pilot

Were you ever in trouble at school?

A lot

If you weren't doing this job, what would you choose instead?

a media executive

Who is your favourite singer or band?

AC/DC

What's your favourite food?

Indian

What is the most fun thing you've done?

The Ferrari Roller Coaster in Abu Dhabi

If you had 3 wishes for yourself what would they be? - be honest!

stay happy, stay healthy with a bit more money

Tell us a joke.

A neutron walks into a bar, orders a drink and asks 'how much?'. The bartender says 'for you, no charge'. (Now please laugh)
---