Profile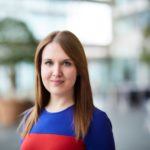 Cat Podesta
Curriculum Vitae
Education:

Wycombe High School, Univeristy of Nottingham

Qualifications:

GCSEs, A-Levels and a Masters Degree

Current Job:

Subsea Construction Engineer

Employer:
About Me

Hi my name is Cat and I currently live in Aberdeen with my puppy Bailey.

Read more

When I was at school I was always curious about how things worked, I broke many pens and remotes trying to see the inner workings and forgetting how to reassemble them! I decided Mechanical Engineering was for me because although I was talented at maths and science my passion was in design.

I studied for my combined master's in mechanical engineering at the University of Nottingham and graduated back in 2014. I then went on to work in Oil and Gas because I saw the impact it could have on people's lives (access to energy is key to a countries development!) and I wanted to be part of the energy transition in future.

Engineering allows me to apply my problem-solving skills to real world problems and the fact I get to spend my day job doing that I find really exciting!

My Work

I spend my time managing a boat that inspects and fixes equipment on the seabed that is essential to the UKs Oil and Gas supply.

My Typical Day: Every day I start by speaking to the boat, making sure they are clear of the days plan and resolving any problems they may have. From there I work with my colleagues to get future work for the boat ready, making sure she is kept busy for 365days a year.
My Interview

How would you describe yourself in 3 words?

Organised, Inquisitive, Chatty

What's the best thing you've done in your career?

Worked offshore on a construction vessel in Egypt for 6 months!

What or who inspired you to follow your career?

My Dad

What was your favourite subject at school?

Product Design

What did you want to be after you left school?

Engineer

Were you ever in trouble at school?

I had a tendency to forget about homework! So had a few detentions for that...

If you weren't doing this job, what would you choose instead?

Dog Walker

Who is your favourite singer or band?

Freya Riding

What's your favourite food?

Lasagna

What is the most fun thing you've done?

Swam with dolphins in the wild in New Zealand
---