Profile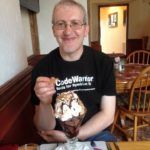 Charles Sparey
Curriculum Vitae
Education:

Devonport High School (Plymouth), Peterhouse (Cambridge University)

Qualifications:

12 GCSEs, 5 A Levels, 2 S Levels, BA, MEng, MA(Cantab), CEng, FIET

Work History:

Ministry of Defence (Defence Engineering Science Group – Student Engineer), Motorola (Cellular Infrastructure Group – Graduate Engineer), LogicaCMG (Mobile Payments Division – Senior Engineer), SAP (Mobile Data and Security – Senior Software Engineer), ForgeRock (Services – Lead Sustaining Engineer)

Current Job:

ForgeRock -> Services Technical Project Manger

Employer:
About Me

I live in Ilminster Somerset with my wife, dog and cat. I enjoy history, music, and watching a good TV series or movie.

Read more

I live in Ilminster, Somerset with my wife and our pet cat, called Clawdpuss, on account of its large feet, and a small orange and tan colored terrier called Fox. As history has always been a passion of mine, in my spare time I enjoy researching the second world war, which when combined with my electronics abilities, enabled me to build a replica Enigma Machine. I am also a lay minister in our local church, so I get to help and support people in the local community as well as being a STEM Ambassador, closely working on science and technology projects in our two local schools. Finally, I play piano/keyboards in a couple of local bands but, for relaxation, like nothing better than to relax on an evening with a good movie, especially Harry Potter, that my wife and I love, or comedy TV series.

My Work

As an Engineer and Technical Project Manager. I lead teams that deliver new software product versions to our customers, which will improve their data security and resolve their problems.

Read more

ForgeRock, the company for which I work, specialize in creating software to support businesses and governments in controlling access to sensitive data so that only the correct people can access it in the right way. For example, i you use social media, you would want your account to be private to you and to be able to control who can see which of your posts. Likewise, if you have a bank account, then, obviously, you'd want to be able to control who can access your money.

I currently work as a project manager, which means I am responsible for looking at our internal engineering processes that deliver our products to our customers and look at ways to improve them, increasing our responsiveness to customer needs, efficiency and product quality. Once the requirements or needed changes have been identified to process or product, it is my job to manage the delivery teams to enable successful project completion.

My Typical Day: I normally work from home, but go into our main offices in Bristol once or twice a week. As a project manager no two days are the same. A lot of my time is spent working with people on resolving problems, handling delays and other issues. To do this I always have a lot of video calls and meetings and these can be any time of day as my teams are in the UK, US and in New Zealand. When I am not directly talking with people, I am often writing documents, updating plans and database records, figuring out what the next project stages should be and making sure that everything is running to plan. I usually spend my lunchtimes learning new skills and techniques or attending online webinars.

Read more

As a project manager, no two days are the same for me. One day I might be carrying out product research, another writing plans, another chasing up and resolving risks and issues.

I normally work from home, generally between 7 in the morning and 4 in the afternoon, with an hour for lunch, which I will usually use to brush up on my skills, learn new techniques or attend a training webinar. That said, as my project teams are world wide, I will often be on video calls or be attending meetings later into the evening or earlier in the morning. Being a home worker makes this easier, but I do head into our main UK offices, typically, once a week.

My key role is to ensure successful delivery of the projects that I am managing and so I am always on the look out for issues and risks, before they arise and become a problem. Likewise I need to be effective at managing and accommodating changes and exploiting opportunities that may arise. To aide me with this, I do spend a lot of time talking with people, writing plans, analyzing progress, resolving blockers and reporting status and forecasts as well as handling budgets.

In addition to this, I am also a mentor for some of our more junior staff, so I help them with their career development as software engineers and team leads, as that was my previous role before moving into project management.
My Interview

How would you describe yourself in 3 words?

Friendly, intuitive, Thoughtful

What's the best thing you've done in your career?

Saved a multi-million pound transformational project from failure

What or who inspired you to follow your career?

My father

What was your favourite subject at school?

Physics

What did you want to be after you left school?

Engineer

Were you ever in trouble at school?

No

If you weren't doing this job, what would you choose instead?

Historian

Who is your favourite singer or band?

Paloma Faith

What's your favourite food?

Curry

What is the most fun thing you've done?

Performed on stage in front of tens of thousands.

If you had 3 wishes for yourself what would they be? - be honest!

1) To have finished paying off the mortgage, (2) To have more time, (3) To never stop learning and experiencing new things.

Tell us a joke.

On the night the titanic hit the iceberg, there is a magic show. And the magician calls up a volunteer from the audience and asks him for his watch. He takes the watch, puts it in a bag and smashes it to pieces, At that moment a Parrot in the audience calls out "It's in 'is pocket, it's in 'is pocket". The magician looks at the parrot, the parrot looks at the magician and finally the magician pulls the watch out of his pocket and hands it back to the man. The magician calls another volunteer from the audience and puts him a disappearing box, he spins the box around and ta da the box is empty. The parrot goes "he's out the back, the guy stepped out the back". The magician looks at the parrot, the parrot looks at the magician and finally the man sheepishly steps out from behind the box. At that moment, the Iceberg hits, the ship goes down, the Magician is swimming around and grabs a bit of flotsam and who's on the other end of the piece of wood but the Parrot. The magician looks at the parrot, the parrot looks at the magician, the magician looks at the parrot, for three days this goes on and finally the Parrot says "alright I give up what did you do with the ship!"
---