Profile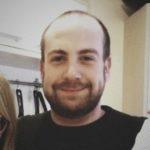 Daniel Wye
Curriculum Vitae
Education:

Frome College, City of Bristol College, University of Plymouth

Qualifications:

HNC Electrical / Electronic Engineering, NVQ 3 Engineering Technical Support

Work History:

Ministry of Defence, NATO

Current Job:

Lead Engineer Flight Controls for F-35B / Lightning II

Employer:
About Me

Husband, Dad, Engineer

Read more

I live with my Wife and 3 children in Wiltshire. We also have a cat called Buddy. My favourite food is a curry from our local Indian takeaway. I enjoy watching dramas and documentary's, but my favourite TV show is The Big Bang Theory. I enjoy spending my spare time outside in the garden, usually building new parts of the garden or playing with the kids.

My Work

Flight Controls Lead Engineer for F-35B / Lightning II Jet Fighter

Read more

I am the Lead Engineer for the Flight Control System of the F-35B / Lightning II Jet Fighter. This aircraft is capable of 'normal' flight, but can also land/take off vertically, and hover in the air. I am responsible for ensuring that the computers, flight control surfaces, electrical and hydraulic systems that make up the whole system are operational and most importantly safe for flight.

My Typical Day: No 2 days are ever the same!

Read more

No 2 days in my job are ever the same, during a typical working week, I usually spend 3 days in the office based in Bristol, and 2 days based at home, where I also have an office. I also spend time regularly working at RAF Marham (Norfolk) and NAS Patuxent River (Maryland, USA). A typical office day in Bristol would look like:

0700 – Arrive at work – Bristol traffic can be a nightmare, so I like to get in early to avoid the rush.

0700 – 0800 – Review e-mails and identify tasks that need to be completed both today and in the future. These are then added to my task list. It is common for e-mails to arrive over night as I work with counterparts in the USA, who are in time zones anywhere from 5 to 8 hours behind the UK.

0800 – 0900 – Lightning Operations Centre Daily Update Meeting – this is a daily meeting, which I attend via Skype link to brief and be briefed on the current status of the fleet across the world and identify which issues are affecting the wider community.

0900 – 0930 – Team Coffee – this may sound like a 'break', but it's an important part of the day for the team to sit down together away from distractions of computers and phones to discuss any work or non-work related issues. It helps us to bond as a team, which is vital when working in a fast paced and sometime unrelenting environment.

0930 – 1030 – Hazard Review – As the Lead Engineer, I am responsible for ensuring that hazards that have been identified within my system are appropriately managed and reviewed. I produce a report with a body of evidence to support my conclusions ready to present to the Project Engineer.

1030 – 1200 – Local Technical Committee – This is a meeting of Engineers and Configuration Managers, which I attend either in person or via Skype like. In the meeting, I present to the configuration manager and Project Engineer on modifications and servicing instructions that I would like to approve for embodiment on the fleet.

1200 – 1230 – Lunch

1230 – 1400 – Aircraft Certification – My team are required to certify modifications and upgrades to the aircraft design on a 6 monthly basis – this is a very challenging deadline, but we all work well as a team, and I ensure that my team are well briefed on their requirements and the relevant UK/US standard to which they should review the aircraft design changes.

1400 – 1600 – In-service Issues Review – This requires me to review all in-service incidents (and accidents if any (although hopefully not)), which can range from a computer that doesn't pass its' initial built in test, to a motor failure within one of the flight control surfaces. It is unpredictable, but my job is to take a step back and respond to each issue pragmatically, providing guidance and support to the front line squadrons, whilst also identifying any trends of particular issues which may require further investigation.

1600 – 1700 – Review of the day – I always ensure that at the end of each day, I take the time to work out which tasks have been completed, and transfer any uncompleted tasks to the task list for the next day. I also use this time to work on any issues that have arisen within my team, both work and non-work related.

1700 – Home time!
My Interview

How would you describe yourself in 3 words?

Husband, Dad, Engineer

What's the best thing you've done in your career?

I was seconded to NATO for 4 years in Germany working on the Eurofighter Typhoon as Certification Manager

What or who inspired you to follow your career?

Both my Dad and Grandad, who worked in engineering.

What was your favourite subject at school?

History and DT

What did you want to be after you left school?

Lawyer / Engineer

Were you ever in trouble at school?

Not often, sometimes for asking too many questions!!

If you weren't doing this job, what would you choose instead?

Commercial Airline Pilot

Who is your favourite singer or band?

Queen / Muse

What's your favourite food?

Chicken Jalfrezi

What is the most fun thing you've done?

Parascending
---