Profile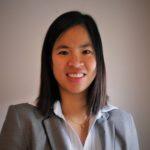 Emily Cheung
Curriculum Vitae
Education:

Jersey College for Girls and then Loughborough University

Qualifications:

I have 11 GCSEs, 4 A-Levels (Maths, French, Physics and Design & Technology), masters in Mechanical Engineering

Work History:

Renewable Energy Systems (as a Wind Turbine Engineer), Belltown Power (as a Construction Project Manager), K2 Management (Project Manager)

Current Job:

Employer:

I work for a specialist renewable energy consultancy called K2 Management. We help clients across the world from Australia to Japan to the USA and all across Europe to build renewable energy projects.
About Me

I am a bit of a jack of all trades who loves outdoor activities as well as baking and general crafting!

Read more

I have lived in Bristol for the last 5 years and liked it so much I bought my house 3 years ago now. I like to think that I can do a little bit of everything and have a diverse range of hobbies, from sewing to cycling and baking to hiking and all sorts in between. I also love singing and am part of Bristol Show Choir which is great fun.

My parents are originally from Hong Kong but I was born and raised on the tiny island of Jersey so I like to get back to the sea where I feel most at home. I love the sound of a roaring ocean and the softness of the sand under my feet with the salty breeze on my face.

My friends always think I can fix things because I'm an engineer but usually a bit of common sense and problem solving skills does the trick…

My Work

I am a project manager and work to build renewable energy projects, like wind farms and solar farms.

Read more

I am a project manager for a renewable energy consultancy. This means I work with clients who want to build renewable energy projects across the world. These could be projects such as wind farms or solar farms and I might help the clients with the buying process or during construction. I've worked across northern Europe, travelling to visit the wind farms and monitoring the construction. I solve problems as they come up to make sure that the project is still completed in time and within the budget and this could range from making sure the delivery route for a big piece of equipment is clear to organising testing.

I worked in northern Sweden for a year which meant working in temperatures down to -25C and with snow past my knees. The challenges of working in such an extreme environment meant we had to have far more control of the work and ensure the machines and materials were kept adequately warm.

I've also inspected lots of wind turbines. The highest wind turbine I've been in was 115m (like a building with 38 floors) and I had to climb the ladder all the way up, which is hard work! But the view from the top is amazing and completely worth while.

My Typical Day: There is no typical day! Every project is different and things change all the time.

Read more

The only thing which is "typical" would be that I usually start around 08.30 in the morning! But the projects I work on could be in development, in construction or going through an organisation restructure. They could be in the UK or Europe or even further away so sometimes I'll have to join early or late meetings to fit in with time zones.

As a project manager, there are a lot of meetings – to co-ordinate works, to understand progress, to report progress, to problem solve and so on. Most of my days are spent talking to people, and that might be when I'm in my company office, the client's office or out at site.
My Interview

How would you describe yourself in 3 words?

organised, positive, enthusiastic

What's the best thing you've done in your career?

Climbing wind turbines

What was your favourite subject at school?

Design and Technology

What did you want to be after you left school?

Originally a teacher but I cycled through many design type or roles (architects, car designer) before settling on engineering

Were you ever in trouble at school?

Never! I was a goody-goody

If you weren't doing this job, what would you choose instead?

If I weren't an engineer, I'd be a teacher

Tell us a joke.

What do you say to get a bear out of the woods? ...... Camembert!
---