Profile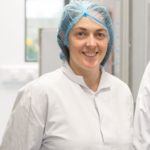 Emma Bould
"Having fun today keeping our production areas cool in this warm weather. The chiller units are a little bit unhappy!
Curriculum Vitae
Education:

Massey University, Auckland, New Zealand

Qualifications:

Bachelor of Engineering (Mechatronics)

Work History:

While I was at university I worked as a Production Engineer in NZ's Largest Brewery. When I left university I moved to the UK and worked as a Business Analyst for a large IT Company before joining the Royal Navy as a Weapon Engineer Officer. After that I spent 2 years as a Design Manager for a Construction company before joining GSK as an Engineering Manager for Ellipta Inhaler Manufacturing.

Current Job:

I am part of a team of Engineering Managers, making sure the Engineering Operations of our factory are safe and run smoothly so that patients get their medicine.

Employer:

I work for GlaxoSmithKline, we are a science-led global healthcare company with a special purpose: to help people do more, feel better, live longer.

I work in the Pharmaceutical Supply Chain, manufacturing Respiratory and HIV medicines for the whole world.
About Me

Engineering Leader with experience in Manufacturing, Life Sciences and the Armed Forces

Read more

I live in Hertfordshire with my two Maine Coon Cats, and in my spare time I like to sew my own clothes and I am studying part time on a Level 7 Senior Leaders Apprenticeship.

I have worked as an Engineer for over 15 years and I was recently elected as a Fellow of the Institution of Mechanical Engineers.

I work for a large pharmaceutical company (GlaxoSmithKline) in support of medicine manufacturing for patients with primarily Respiratory and HIV diseases.

My Work

I'm an Engineering Manager in a Medicine Factory. I lead a team of engineers, to make sure maintenance is carried out so that we keep our staff safe and high quality medicine going to our patients
My Interview

How would you describe yourself in 3 words?

Hardworking, Energetic, Direct

What's the best thing you've done in your career?

I have done lots of great things, one of the best was spending the day on a submarine. I got to watch through the periscope as we dived under the water!

What or who inspired you to follow your career?

My Dad - he is an Aeronautical Engineer

What was your favourite subject at school?

Physics and Geography

What did you want to be after you left school?

I didn't know exactly when I was at school, but I was always interested in how things worked.

Were you ever in trouble at school?

Not very often, usually only for talking too much!

If you weren't doing this job, what would you choose instead?

I can't think of anything I would rather be doing

Who is your favourite singer or band?

Snow Patrol

What's your favourite food?

Avocado

What is the most fun thing you've done?

Going on safari in Africa (the ship stopped in Tanzania for a few days) and learning to skydive and ski (with work!)

If you had 3 wishes for yourself what would they be? - be honest!

I wish for more travel and sewing adventures, I wish I could visit my friends and family in NZ more often, I wish for the opportunity to Ski every season

Tell us a joke.

Arguing with an Engineer is a lot like wrestling in the mud with a pig: After a while, you will realise they like it!
---