Profile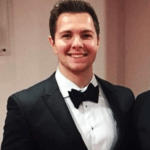 George McIntyre
Curriculum Vitae
Education:

Cwmcarn school, Monmouth Boys school, University of Liverpool

Qualifications:

GCSEs – 1A*, 7As, 2Bs, 1C (short course welsh). A-levels – B maths, B chemistry, B physics, B history. 1st Class Degree (B.Eng Honours)

Work History:

Rolls Royce Plc (Derby) – placement before university, Nifty Lift Ltd – placement during university, Atlas Elektronik – for 2 years after graduating from university, Ultra (Maritime division) – 2 years to now

Current Job:

Senior Mechanical Design Engineer

Employer:
About Me

I love travelling around the world when I get the chance and find the way things work fascinating!

Read more

I live in a town called Hedgerley, close to Beaconsfield, with my wife and our crazy dog. We have both travelled a lot and jump to when we get the opportunity to explore new places! I am passionate about cars and the gym, i weight train pretty much every day before work. I am also a keen mountain biker and used to race Downhill Mountain Biking when I lived in wales. I grew up in the valleys in Wales since the age of 3. I played a lot of rugby in school and through university, but my shoulders have had enough now! I'm an easy going person, i find most things interesting and am always keen to learn!

My Work

I design technology that enables the Navy to find submarines.

Read more

I am a Senior Mechanical Design Engineer. I design underwater technology that use sonar to find and track submarines. This technology can sit as far down as 3km under the sea for up to 1 year length! I also design kit that goes on helicopters helping deploy the technology that sits in the sea. Sadly i am unable to share images due to the nature of the work in the defence industry.

My Typical Day: I work from around 7.45AM to 3.30PM, i start early so I can finish early. Lots of design work during the days which is the most interesting bit pf the job!

Read more

I get to work just before 8am. I log on and go through emails that came through the day before or during the evening/night. I may have a morning progress meeting for a project where i update the project manager on the progress of the design. I would then do a few hours of design work before lunch, the design work is the most interesting bit! After lunch maybe do some more emails and have discussions with colleagues about project designs. In the afternoon i usually have a meeting or 2 which are in depth technical meetings about the designs for projects which are really interesting. Back to my desk after to clear up some tasks for the day and then I head home. Busy day as usual!
My Interview

How would you describe yourself in 3 words?

curious, easy going, determined

What's the best thing you've done in your career?

I have been on 2 submarines, a couple of navy ships and travelled to the USA all for work!

What or who inspired you to follow your career?

my physics teacher from school

What was your favourite subject at school?

maths/all sciences

What did you want to be after you left school?

no idea!

Were you ever in trouble at school?

a couple of times

If you weren't doing this job, what would you choose instead?

i would either be a doctor or a vet

Who is your favourite singer or band?

i don't have one, i like too many to have a favourite!

What's your favourite food?

Pizza all the way!

What is the most fun thing you've done?

sky diving over the California coast in the USA

If you had 3 wishes for yourself what would they be? - be honest!

to know everything, the ability to fly, world peace

Tell us a joke.

Why did the mushroom go to the party? Because he was a fun-gi (get it fun-guy) sorry lame dad joke!
---