Profile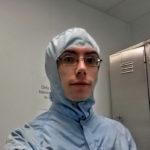 Henry Lancashire
Curriculum Vitae
Education:

International School Düsseldorf (IB) | University of Nottingham (BSc Biomedical Materials) | University College London (MRes Materials Science) | University College London (EngD Biomedical Engineering)

Qualifications:

Work History:

Healthcare Assistant | Postgraduate Research Assistant | Research Fellow | Lecturer

Current Job:

Employer:
About Me

I'm a Biomedical Engineer.

Read more

I live with my partner on the outskirts of London. When not in the lab I can usually be found on my bike 🚲, playing music 🎶🎺🎹🎸, or at a historical reenactment ⛺.

My newest hobbies are gardening 🌻, and creating computer generated music and sound effects 🔊🎶.

My Work

I design and make small implants which connect with nerves and muscles in the body.

Read more

In my work I want to help improve the lives of people with nerve and muscle injuries. These injuries can affect how people move or feel, and prevent the body working as it should. To help understand these injuries, and reduce their effects, I make implants which are placed inside the body to measure and connect to nerves and muscles.

My Typical Day: My days are very varied. Some days I am in the laboratory doing hands-on research. On other days I can be found in a classroom or a lab teaching, or in my office planning research and meeting other people.

Read more

I get into work by bike 🚲 and tube train 🚇. I use the time my commute to read about recent research, or to just read a book for pleasure 📚.

Part of the time I spend in a special cleanroom laboratory which protects my work from the dust and pollution of London. This is where I make and test new implant designs. I also help keep the space clean and tidy, including doing the hoovering on Fridays 🧹✨.

On some days I teach students about designing implants. This includes introducing new topics in the classroom 👨‍🏫, going through calculations together 🖩, and supervising students during laboratory classes 🔬.

I also spend time planning research and meeting other researchers.
My Interview

What's the best thing you've done in your career?

When a student I am teaching has an "ah ha!" moment, and I know they've understood.

What or who inspired you to follow your career?

Lots of people along the way, family, teachers, colleagues...

What was your favourite subject at school?

Psychology, I had a great teacher who shared their love of experimental science.

Who is your favourite singer or band?

Free, or the German band Schandmaul. I also really enjoy Bach's Organ works.

What's your favourite food?

Lemon Meringue Pie

What is the most fun thing you've done?

Hiked up Mt. Kilimanjaro

Tell us a joke.

Why don't Polar Bears eat Penguins? Because they can't get the wrappers off.
---