Profile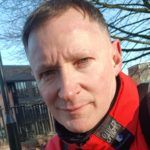 Jean-Luc Bulber
Curriculum Vitae
Education:

Arts et Métiers ParisTech, is a French school of engineering that was established in 1780

Qualifications:

French degree in Mechanical and Industrial Engineering. Chartered Engineer, member of the Institution of Mechanical Engineers

Work History:

Always worked in the automtotive, around plastic moulding and various assembly methods

Current Job:

Employer:

I have worked on projects for FORD, BMW, JAGUAR LAND ROVER, BRP-ROTAX (jet skis and ski-doos), RSA (RENAULT), PSA (PEUGEOT / CITROEN)
About Me

Engineering a better world

Read more

I am French and have worked in the automotive industry for 25 years now. 5 years in France near the Alps, where I enjoyed the great outdoor with mountain biking, skiing, hiking; and now 22 years in the UK in Birmingham.

I live in Birmingham. Expert DIY-er and keen baker of bread and cakes, I also enjoy cycling, and sharing my passion for engineering. I am a registered Chartered Engineer with the IMechE (Institution of Mechanical Engineers) and STEM Ambassador.

I like to repair and make things. Design with Fusion 360. 3D printing has revolutionized the way we create new objects. DFM (Design For Manufacturing) has now been replaced with Design For Function. Basically: you imagine and design something, and we find the best way to build it  🙂

I speak French of course, try to do my best in English (joke !), but also speak German and Spanish. I have also started learning Russian, our of personal interest. While most people in the workplace will speak English, I like to show interest in people's own culture, and believe foreign languages help to do this.

My Work

I manage projects to develop products and systems for cars, trying to engineer a better world.

Read more

Throughout my career so far, I have managed several projects, and started a new production site in Birmingham in 1999. This employs now about 120 people, to manufacture car components. This is mostly engine parts (air intake manifold, cylinderhead cover, fuel injection lines) but also washing systems (tank for the washing liquid, pumps, hoses, windscreen washing nozzles).

The technologies we use are plastic injection moulding, extrusion blow-moulding, assembly with machines or by hand, and testing of the finished products.

I have experience on the project management side, working with a team of experts, but also have a keen interest in the manufacturing process itself. I have also planned and organized the relocation of big machinery, inside the plant here, but also in- and out of the plant, as we adapt our resources here in Birmingham to the products we manufacture.

My background is mechanical and industrial engineering, graduated in France with the Arts et Métiers ParisTech. I am registered as a EUR ING (European Engineer) with the FEANI, and here in the UK as CEng MIMechE (Chartered Engineer, Member of the Institution of Mechanical Engineers).

My Typical Day: Typical day ? Thanks god, there is no such thing, which is what keeps the job interesting !
My Interview

How would you describe yourself in 3 words?

Experienced, Resourceful, Curious

What's the best thing you've done in your career?

Inspire youngsters to start a career in engineering

What or who inspired you to follow your career?

I loved the Blue Peter type television programs, and always admired multi-talented people like Leonardo Da Vinci

What was your favourite subject at school?

I loved maths, technology, and foreign languages

What did you want to be after you left school?

I wanted to work in construction, but have no regrets that this didn't work out

Were you ever in trouble at school?

Not really. I was a good student

If you weren't doing this job, what would you choose instead?

Maybe baking or farming

Who is your favourite singer or band?

Not a fan of heavy metal. Everything else is cool

What's your favourite food?

Bread of course, with cheese. And anything with chocolate :P

What is the most fun thing you've done?

Learning to ski at the age of 24

If you had 3 wishes for yourself what would they be? - be honest!

Have a dog, have a garden, make everyone happy

Tell us a joke.

ENGINEER . Noun . [en-juh-neer] . Someone who does precision guesswork based on unreliable data provided by those of questionable knowledge. See also wizard, magician
---