Profile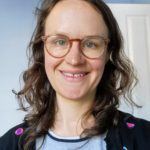 Jessica Davies
Curriculum Vitae
Education:

Qualifications:

10 GCSEs, 4 A-levels, a masters degree in engineering from the University of Cambridge

Current Job:

Employer:
About Me

I'm Jess, I enjoy being outside and exploring as well as crafting and creating at home!

Read more

Outside of work I like running, gardening, knitting and baking lots of cakes. I also enjoy the great outdoors, especially camping and riding my bike. I have been on lots of cycle tours around the world, including over 4000km across south America. I listen to lots of radio and podcasts, and am continually trying to learn Spanish!

My Work

I make sure buildings stand up, and work on both new buildings and making changes to existing ones

Read more

I am a structural engineer and I've been working in London since I graduated from Cambridge university in 2012. I work on blocks of flats, houses and offices, designing the structural frame to make sure it stands up! I have also worked on quite a lot of historic buildings.

My Typical Day: I start with responding to emails, which are usually clients asking questions and coordination with other design team members (e.g. architects or mechanical specialists). I might visit a building site, to see how works are progressing or investigate something they have found that they weren't expecting. I also have meetings most days to talk through design or works on site. Time in the office is either designing structures using computer software, reviewing drawings and writing reports which explain our designs. It is a very collaborative job, I spend a lot of time talking through ideas with colleagues and clients. I usually work on 5-10 different projects at a time.
My Interview

What's the best thing you've done in your career?

I have been to lots of really interesting sites, from crossrail stations to Grade 1 listed 18th Century houses

What or who inspired you to follow your career?

My Grandma was an engineer as well, and was very persuasive! I also had some careers talks at school from other engineers which exposed me to the possibilities out there

What was your favourite subject at school?

Maths

What did you want to be after you left school?

I had little idea!
---