Profile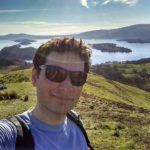 Juan Carlos Fallas-Chinchilla
Curriculum Vitae
Education:

University of Edinburgh – University of Nevada – University of Costa Rica

Qualifications:

Car Mechanics Degree – MEng – MSc – PhD

Work History:

Rolls-Royce – Ad Astra Rocket Company – Mercedes Benz (car dealer) – Construction Companies

Current Job:

Critical Parts Engineer – Rolls-Royce

Employer:
Read more

Born and raised in Costa Rica (a beautiful tropical country), decided to travel and see the world by studying and working in engineering. Lived in the USA, Switzerland and Scotland before moving to England. Love outdoors, cycling, swimming and 90s music and films 🙂

I live in Birmingham with my girlfriend (who wants 10 cats) and work in Derby since 2017.

My Work

I work in safety for jet engines at Rolls-Royce. Myself and my colleagues help each other to understand the wear and tear of different components such as shafts, compressors, and turbines.

Read more

My work involves the analysis of stress and  temperature data and computer models from mature jet engines to address safety concerns, which could lead to a decrease in the predicted and declared life of a specific critical part (i.e. compressors – turbine discs and shafts).

The analysis I perform includes topics such as materials behavior at extreme conditions, damage tolerance, crack propagation and general risk assessments.

My Typical Day: I take the train and cycle to work (love the fresh air). At work, I get a coffee (first thing) and check computer models of jet engines components and assess their safety and integrity. My colleagues are very supportive and we all help each other to solve the different problem. Once things are solved, I usually write a report to circulate in my company to show the work done.
My Interview

How would you describe yourself in 3 words?

Friendly - Persistent - Supportive

What's the best thing you've done in your career?

Getting a PhD in Edinburgh - Work in Aerospace

What or who inspired you to follow your career?

Astronauts - Space Missions and see how it changed the world

What was your favourite subject at school?

Maths - Biology - Chemistry

What did you want to be after you left school?

An Engineer!

Were you ever in trouble at school?

Yup :)

If you weren't doing this job, what would you choose instead?

Teaching and Research at Uni

Who is your favourite singer or band?

Chris Cornell - Depeche Mode

What's your favourite food?

Have so many... I eat a lot!

What is the most fun thing you've done?

Worked on a rocket to go to Mars

Tell us a joke.

19 and 20 had a fight, twenty-won :)
---