Profile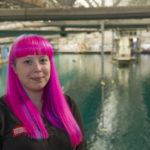 Kate Davies
Curriculum Vitae
Education:

Purbrook Park Secondary School, Southdowns College, PETA Engineering Training Association, Southampton City College, Fareham College, Highbury College, Uinversity of Portsmouth

Qualifications:

4 A-C GCSE's, NVQ L2 French, Btec L1 Engineering, Btech L3 Extended Diploma in Animal Managment, NVQ L2 Engineering, PEO L2 Engineering, NVQ L3 Engineering, Advance Apprenticeship in Engineering technical support, Btec L3 Mechanical Engineering, HNC/HND Mechanical Engineering, Bsc (Hons) Engineering and Managment Studies

Work History:

Current Job:
My Work

I currently work as a Production Scheduler for a defence contractor. We design Manufacture and test scale models of surface ships and submarines.

Read more

I work for QinetiQ, at our Hydrodynamic (movement of water around an object) testing facilities in Haslar.

We produce scale models for full size ships and submarines to identify whether the designs can be improved. They range in size from less than a meter up to 7 meters long.

Within my work I look at scheduling/planning for my 3 production teams:

The first is the Design team who produce CAD data and technical drawings for manufacture
The second is the Workshop team, split into Metalwork and GRP/Boatbuilding – The metalwork team use traditional lathes and miss as well as CNC machines to produce components which are used within our testing models. The GRP/Boatbuilding team manufacture GRP models and various other components.
Finally the instrumentation team, who use testing equipment such as Servos to control rudder and data recording equipment so that we can find out the results of our tests.

Other parts of my role include identify staff and equipment capacity and development of new skills. I also have a background in design engineering with a degree in Engineering and Management Studies.

My Typical Day: I work with other members of my team to make sure that the work that needs to be done gets done and if there are any problems I try to fix them.

Read more

Within my typical day I will work with the team leaders to look at what work has been done and what we need to do moving forward. I attend progress meetings to ensure that key people are aware of progress and support the team to resolve any issues. I also work on bids for new work. There is quite a lot of spreadsheet work but I get to go on some cool trips every now and then.
My Interview

How would you describe yourself in 3 words?

Honest, Friendly and Creative.

What's the best thing you've done in your career?

Gaining my First Class Honours Degree through distance learning while working full time.

What was your favourite subject at school?

Engineering

What did you want to be after you left school?

I wanted to be a zoo keeper.

Were you ever in trouble at school?

Not really. I think the worst trouble I ever got in was being kicked out of class by a substitute teacher because she didn't like my sister and she thought I would be bad like her (which I wasn't).

If you weren't doing this job, what would you choose instead?

I think that i would have to be a personal shopper because I'm great at spending money :).

Who is your favourite singer or band?

Hurricane by I Prevail

What's your favourite food?

Pasta

What is the most fun thing you've done?

A couple of years ago i got to go on HMS Vanguard. It was amazing!!! (Even though it smelled a bit funny.)

Tell us a joke.

What do you call a dog that's a magician?...... a Labracadabrador.
---