Profile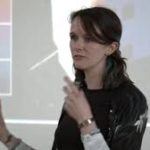 Katie Sparks
Working from home and wishing I could enjoy the sunshine
Curriculum Vitae
Education:

Settle High School (1998 – 2001) – GCSEs Giggleswick High School (2001 – 2003) – A level University of Warwick (2003 – 2006) – Physics BSc Brunel University (2011) – Aerospace Engineering MSc University of York (2018) – Secondary Science Teacher Training

Qualifications:

Lots! Various GCSEs A levels in Physics, Chemistry and Maths BSc in Physics MSc in Aerospace Engineering Secondary Science Teacher Training And various music things too – I'm currently going for grade 8 in cello.

Work History:

After many part time jobs in pubs, I worked in a patent office, drafting patents and trade marks. Unluckily, I lost my job, but then worked for my local county council in the call centre, as a PA, in legal services and in data protection for Social Care. I missed lots of science and wanted to help make science happen, and I love space, so I retrained to become a spacecraft engineer. As an engineer I worked on EarthCARE, Lisa Pathfinder and Solar Orbiter (which launched in February.

Current Job:

STEM Ambassador Engagement Officer

Employer:
About Me

Tea drinking, music playing ex-spacecraft engineer, now working at the National Railway Museum

Read more

I live in West Yorkshire, with my husband.  I'm originally from North Yorkshire (my family are still there) and have lived in a few places around the country.  It's lovely being back in Yorkshire for all the hills and I'm even enjoying the rain!

During lockdown, I have been reading a lot more and working on lots of craft projects.  Current projects I have on the go are a scrapbook of our wedding (nearly two years and still not there), making cushions, crochet toys (some of our friends have had babies recently) and attempting to make my own clothes.

Me and my husband have been watching Buffy the Vampire Slayer, we remember it from school (although we didn't know each other then) and many of our friends are too.  We're definitely enjoying it, but it's totally rubbish!

I am still working, so I don't have as much time as some do right now, but I have got some extra time as I don't have to travel to work.  With my extra time, I am getting more piano and cello practice in.  I am working towards Grade 8 in cello, waiting to hear when we can do the exams again!

My Work

I used to design spacecraft and visit schools to show kids how they could do that type of job. I now help other people share their job stories with schools.

Read more

My background is in physics and engineering (I used to design spacecraft) and now I support people to take their science and engineering knowledge into schools.
I look after the whole of North Yorkshire.  I use a computer lots, to work out which schools are getting support, finding out where their nearest volunteer is and matching people up.

I also help bring engineers and scientist into the museum.  They come to join in with all sorts of things, from speed networking, game shows and workshops.

When I was designing spacecraft, I worked with lots of different people and was a volunteer myself.  I use my experience of what it's like to be a volunteer to help others work out what they could do.  I also use that when I'm talking to teachers, getting them to link up what they teach with what different volunteers could do.

As an engineer, my job was to design ways to keep spacecraft at the right temperature.  That involved a lot of meetings to understand how the different parts of the spacecraft were being used and then creating computer models to represent this.  From that, I would work out which bits needed to be cooler or warmer and come up with ways of making that happen.

My job now uses a lot of the same skills I needed as an engineer:

people skills

to understand what volunteers do in their jobs and give them the confidence to share their stories and try things out
when talking to schools, teachers are really busy, so helping them find easy ways of doing "extra" things is always the best option, as well as letting them know I'm there to support them

writing skills

we report on what we do and the difference we're making
I write a lot of guides to help volunteers and teachers

computing and number skills – everything I do is informed by what is going on and that information comes to me as big excel spreadsheets

write small computer programs to see what volunteers are up to
plot graphs of when volunteering happens over a year, to prepare lots of help for them
check out how successful schools have been in requesting volunteers, looking for reasons why something may not have worked and seeing where we can be more successful next time
making maps of where volunteers are and which schools want volunteers, to match them up

My Typical Day: My typical day is lots of computer work, with emails and some meetings. I see how volunteers are getting on and help them where I can. I also make contact with schools to find out what they're up to and where we can help them.

Read more

My typical day could be arranging events for teachers, scientists and engineers to get together, or it could be using a computer to map where everyone is and what they are up to.

I look for "gaps", areas where there isn't anything going on, to see if there is anything I can do to help get things going. I also look to see what is popular in an area or with a particular school, to see if I can get more variety of things going on.

There is always lots of things going on, in schools and within the museum.  I try and meet people where I can, as it's nice to know what people are interested in.  The bonus of that is getting to treat them (and myself) to cake from the museum.
My Interview

How would you describe yourself in 3 words?

Quirky, silly, northern

What's the best thing you've done in your career?

Solar Orbiter launching

What or who inspired you to follow your career?

I always loved science, but I had a great teacher who made physics really interesting

What was your favourite subject at school?

Biology or chemistry (until A level, then it became physics)

What did you want to be after you left school?

I had no idea, I was happy to see what happened next

Were you ever in trouble at school?

For not putting in enough effort at games/ PE.

If you weren't doing this job, what would you choose instead?

I'm not sure, currently I am interested in how the science museums around here create their exhibitions and also how to share science stories at places like festivals.

Who is your favourite singer or band?

I listen to all sorts of music, especially classical and alternative things. I really like Philip Glass and Penguin Cafe Orchestra.

What's your favourite food?

Cheese, or rice pudding, curry, tea, more cheese and crisps

What is the most fun thing you've done?

Getting married was really good fun, we had a lot of friends there and I enjoyed wearing a fancy dress (not a typical wedding dress though)

If you had 3 wishes for yourself what would they be? - be honest!

To move house to somewhere a bit more remote with a garden, to pass my Grade 8 cello and to find a job that has lots of science and education in it

Tell us a joke.

What's the fastest drink? Milk, because it's "past-your-eyes" (sorry)
---