Profile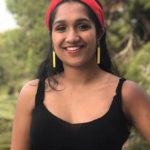 Kaya Patel
Curriculum Vitae
Education:

Greenacre Scholl for Girls, Wallington High School for Girls, The University of Sheffield

Qualifications:

GCSE's, A-levels, MEng Civil and Structural Engineering with Honours

Work History:

Waitress, Kumon Instructor teaching Maths and English, Summer Intern at Ramboll

Current Job:

Graduate Engineer at Ramboll

Employer:


Ramboll
About Me

Graduate Civil Engineer working in Rail

Read more

My first knowledge about engineering came from my secondary school years. Having been lucky enough to attend a STEM focused school, I became aware to a whole new world of career opportunities I did not realise where a possibility for my future. Having had an initial interest in buildings and design, my love of problem solving soon grew leading me to chose Civil Engineering to study at University.

I headed to the University of Sheffield, taking part in the Squash club, Civil engineering society and becoming president of the Coppafeel! Society, a breast cancer awareness charity. In my second year, I became an summer intern at Ramboll, to get some hands on experience on the life of an Engineer – and experience I repeated again in my third year. After 4 years I left with a Masters degree in Civil and Structural Engineering, and learnt that there was even more to Civil engineering than I had ever anticipated (I did my dissertation on Blast Explosions!) and started my Graduate role in Ramboll's London Office as part of the Bridges Team.

I live in South London, and love art and live music. I am also supporter of Liverpool FC, and enjoy doing  charity work.

My Work

I help design bridges and structures we often link to Railways. Most of the things we design are made from concrete and steel.

My Typical Day: In the Office: Leave my house at 7:30am, get to work for 8:30am, have a cup of tea with my team before starting work/attending meetings. Have lunch with my team and the other graduate before continuing with work till 5pm. I explain to my manager what I have done that day and make a list of stuff to do for the following day.

Read more

My working hours tend to be from 8:30am to 5pm if i can get up early enough to make the 8am train! My office is right by the Tate modern, so I get a great view of the shard every morning.

As an engineering consultant, I help with the starting design of bridges before that start being built (by contractors). This involves making up drawings of our design so they can accurately be built (imagine how many instructions you need for 1 Ikea table, now thing of how many you need for a bridge!), doing calculations to make sure my structure is safe and linking up with everyone involved in the project to make sure we reach the best outcome.
My Interview

How would you describe yourself in 3 words?

Creative. Kind and Hard-working

What's the best thing you've done in your career?

Join the ICE Graduate and Student Committee

What or who inspired you to follow your career?

A teacher from my school, she told me I could achieve anything I put my mind to

What was your favourite subject at school?

Maths or Art

What did you want to be after you left school?

A Buildings Engineer

Were you ever in trouble at school?

I was regularly forgetting my homework

If you weren't doing this job, what would you choose instead?

An Events Coordinator

Who is your favourite singer or band?

Florence and the Machine

What's your favourite food?

Pad Thai

What is the most fun thing you've done?

Went Paddle Boarding in the sea at Malta

If you had 3 wishes for yourself what would they be? - be honest!

To have my own business, to live a big house in central london that could fit all my family in, be able to travel the world

Tell us a joke.

When do Vampires like racing? When it's neck and neck.
---