Profile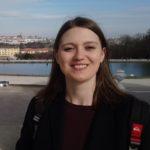 Kirstin Rouse
Ready to answer all your questions - send them over!
Curriculum Vitae
Education:

Crispin School, Strode College, University of Kent and currently UCL part time.

Qualifications:

10 x GCSEs; A Levels in Computing, English Language, Maths and Psychology; MEng(Hons) in Computer Systems Engineering; PGCert in Systems Engineering Management (in progress).

Work History:

Had a couple of part time jobs up until becoming a Graduate Engineer at General Dynamics and I've been there ever since.

Current Job:

Employer:
My Work

I design and develop equipment for military planes and helicopters.

My Typical Day: Starts with a coffee (or two) and who knows how it'll end - every day is different.
My Interview

How would you describe yourself in 3 words?

Ambitious, determined and loyal.

What did you want to be after you left school?

"Something techy" – that was all I knew!

Were you ever in trouble at school?

Maybe once or twice.

If you weren't doing this job, what would you choose instead?

Either running a bakery or some kind of park ranger out in nature.

Who is your favourite singer or band?

I listen to far too much to name just one.

What's your favourite food?

All the foods. I love to cook and can bake a mean victoria sponge cake.

What is the most fun thing you've done?

Getting catapulted into the air in a glider and then flying it around.

Tell us a joke.

Me attempting to tell a joke would be the joke.
---