Profile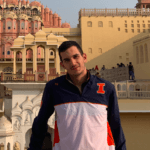 Lorenzo Molinari
Curriculum Vitae
Education:

High school in Rome, Italy from 2011 to 2016; University College London from 2016 to 2018 and from 2019 to 2020; University of Illinois at Urbana-Champaign from 2018 to 2019.

Qualifications:

Italian Baccalaureate for High School

Work History:

I did a lot of research around Autism, worked as a Campus Representative for an Education company and had a summer experience in Consulting at a large and international firm.

Current Job:

Employer:

University College London
About Me

I'm a final year Biomedical Engineering student at University College London. I love talking about how cool Engineering is!

Read more

Hi everyone! My name is Lorenzo and I am an Engineering student at UCL. I'm originally from Rome, Italy and I moved to London for university when I was 19. During my university experience, I did many interactive and engaging activities in schools to inspire students to choose careers in Science, Technology, Engineering or Maths!

I am a huge fan of bubble tea (I travelled to Taiwan last summer just to try it from the place it was created!), I love playing volleyball with my friends and I find pugs TOO cute!

My Work

I study how to create new medical pieces of equipment that can help doctors save more lives!

My Typical Day: I get up at 7.30am, go to university by underground, attend classes about X-rays, MRI and optics, meet my friends in society events, study a bit in the library and then cook dinner with my lovely flatmates!
My Interview

How would you describe yourself in 3 words?

Outgoing, engaging and fun

What's the best thing you've done in your career?

I tried many, many, many things so that I could understand what I like and what I don't like.

What or who inspired you to follow your career?

My Latin teacher in High School, who taught me to never give up and keep pursuing my dreams

What was your favourite subject at school?

Latin!

What's your favourite food?

Indian Red Lentil Dal (spicy!!)

What is the most fun thing you've done?

Backpacked around Vietnam on my own for 2 weeks!
---