Profile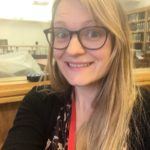 Nicola Grahamslaw
Curriculum Vitae
Education:

John Taylor High School (in a village in Staffordshire) then Cambridge Uni

Qualifications:

9 GCSEs, 3 A-levels and then a degree in Engineering

Work History:

Deivering newspapers, packing boxes in a factory, filing in an office, testing software to see if I could crash it, doing aerodynamics calculations on plane wings, then temperature calculations on nuclear reactors, teaching coding robotics, animation etc, and now looking after the ship!

Current Job:

Ship's Conservation Engineer, SS Great Britain

Employer:

SS Great Britain, the world's oldest iron ship and Bristol's No.1 Museum!
About Me

I'm Nic, I live and work in Bristol, and I like food and being outside.

Read more

I live just outside Bristol. When I'm not working I like food (to be honest I like food all the time)

(when we're not staying at home!) I like going to the mountains or to the sea.

While we're home, I'm going on bike rides around my village and learning how to grow food in our new garden. I'm also practising handstands and cartwheels, by the time I go back to work, I want to be able to walk on my hands.

When I think nobody can hear me I sing to myself, and I eat chocolate every single day.

My Work

I care for the world's oldest metal ship, now a museum. I use computer-controlled equipment to keep it as dry as the desert and stop rust!

Read more

I work at the SS Great Britain, which was the world's first metal ship, designed in Victorian times by a famous engineer called Isambard Kingdom Brunel.

At the time she was the biggest ship in the world, and took thousands of people to Australia. After sailing for nearly 100 years the ship got damaged and abandoned in the Falkland Islands, near Argentina and Antarctica, 8000 miles from Bristol! In 1970 the ship got rescued and brought all the way back so people can visit and go aboard to find out what life was like for the Victorians sailing to Australia.

But the metal is really old and when taken out of the water it started rusting really quickly – the only way to stop this is to keep the metal really, really dry. The ship is in a dock but we've built a glass roof so the ship looks like it's floating but underneath we keep the air next to the metal as dry as the Arizona desert.

My job as the ship's conservation engineer is to look after the ship, and that means looking after the equipment that dries the air and sends it all around the ship, making sure it's doing the best job possible. I also work with the computer code that controls the system to see if we can keep the ship dry using less gas and electricity so our carbon footprint gets smaller. I'm also responsible for the temperature and humidity for displaying and storing all other objects we have in the museum too.

In my last job I made computer simulations of the temperatures of different bits inside nuclear reactors, to help make sure power stations stayed safe!

My Typical Day: I cycle to work at about 9. I usually start the day by checking the machines to make sure everything is working properly. I'll have a catch up with the rest of the team to find out what else is going on in the museum like new activities or new exhibitions, and sometimes I chat to visitors or go to conferences to swap ideas with people from other museums.

Read more

I cycle to work and get there at about 9, then check on the computers and the machines to make sure everything is working properly and all temperatures and humidities are nice and stable. Sometimes I collect data from the machines to learn more about exactly what each bit is doing, which helps us fix any problems and we're also working on calculations to help reduce the amount of gas and electricity the drying uses.

I have lots of sensors around the ship monitoring how dry different locations are, some days I move the sensors around to check new locations, and some days I'll go and have a good look at the ship (a "condition check") and take photos so we can keep an eye on whether any of the rust is getting worse.

I'll have meetings with different groups of people at the museum to keep up-to-date with any new activities or exhibitions, how many visitors are coming or any other exciting events coming up on the ship. Sometimes a group visit will want some specific information about science, engineering or looking after the ship so it's my job to get that information for them, sometimes I do a lecture or a tour to talk about it, or I give the information to our official tour guides.

I also talk to researchers at universities who might be helping with some calculations, or people who work at other museums to compare notes on how we're looking after all of the objects in our displays and in storage and share any tips and tricks on new techniques or energy-saving.
My Interview

How would you describe yourself in 3 words?

Thoughtful, but easily distracted!

What's the best thing you've done in your career?

Winning the Institution of Mechanical Engineers "Young member of the year" award for my work helping other engineers with getting qualified and helping to encourage more girls to give it a try. And getting to be on TV with Rob Bell!

What or who inspired you to follow your career?

I had a really good physics teacher who got me interested in nuclear physics and then in my first internship the team I worked with were a really nice bunch of people so I wanted to keep working there.

What was your favourite subject at school?

Music and Drama! But also economics (and sometimes physics)

What did you want to be after you left school?

I probably went through everything: Nurse, actress, lawyer, entrepreneur. I kind of became an engineer by accident as I didn't really know what one was most of my time at school.

Were you ever in trouble at school?

Yes - I was a daydreamer and often left my work unfinished...

If you weren't doing this job, what would you choose instead?

Teacher

Who is your favourite singer or band?

It changes all the time! But my all-time favourite is Maximo Park

What's your favourite food?

Pizza, ice cream or cereal.

What is the most fun thing you've done?

Paragliding (jumping off a cliff attached to a giant kite!)

If you had 3 wishes for yourself what would they be? - be honest!

To live by the sea, to never run out of energy and to be able to fly.

Tell us a joke.

Why did the scarecrow win so many awards? Because he was outstanding in his field.
---