Profile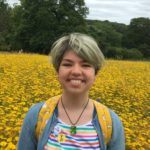 Oana Lazar
From circuits to artificial intelligence to coding to university life...ask me anything! :D
Curriculum Vitae
Education:

I went to the British School of Brussels (in Belgium!) for almost all of my education, and then came to the University of Southampton, where I am now.

Qualifications:

GCSEs in Maths, Further Maths, Triple Science (Physics, Chemistry, Biology), Computer Science, Design and Technology: Resistant Materials, Art and Design: Fine Arts, Geography, English Language, English Literature, French Language, French Literature, Geography…and that's all I can remember off the top of my head! I also got to ABRSM Grade 4 in Piano. Instead of A Levels, I completed the International Baccalaureate, studying Physics, Mathematics (with Pure Mathematics), and Visual Arts at Higher Level, and English Language and Literature, French Language and Literature, and Psychology at Standard Level.

Work History:

I've only had a summer internship with UltraSoC so far, but I also do a lot of volunteering and spreading excitement about electronic engineering through workshops and events.

Current Job:

Student/Electronics Engineer

Employer:

UKESF Scholarship Scheme with UltraSoC Technologies Ltd.
About Me

Apart from technology, I get really excited about cute animals, bugs, and succulents!

Read more

Hi! I'm Oana and I'm 21 years old.

My favourite game is "Hollow Knight", and if you haven't heard of it, you should definitely look it up!! It's full of heart, and the art is gorgeous!

At university I have a lot of hobbies, including playing the piano, teaching myself the violin, Taiko drumming, street dance…and gliding! Yes, I enjoy hurtling through the sky in what's essentially a box with wings, no engine – it's really fun!

I'm also really passionate about art, and actually studied art right until I started university, so feel free to ask me about that as well! 😀

Final random fact: I collect old and new vinyl records, and my boyfriend collects and makes his own mixtapes on cassette tapes!

My Work

I study Electronic Engineering, so I work on making new technologies like chips (computers "brains") and smart devices safer from attacks!

Read more

I've just finished my 3rd year studying Electronic Engineering at the University of Southampton. I'm on an integrated Master's course, meaning that my course is 4 years long instead of being split into a 3-year Bachelor's and then a Master's on top. I've just applied for an industrial placement, making my degree a "sandwich course", so next year I'll be working in industry for a full year as a part of my course…so I'll be at university for 5 years – confusing, I know!

So far I've had a 2-month summer internship with UltraSoC, the company sponsoring my UKESF Scholarship, and absolutely loved it!

My Typical Day: Since I'm a university student, I'm usually spotted at strange hours of the day, either reading about something new, simulating circuits, writing programs, testing out ideas...pretty much always glued to one screen or other, or tinkering with components!

Read more

At university, my day usually starts with a couple of lectures, where I sit at the front of the lecture theatre with my friends while taking notes and asking as many questions as I can. If I don't have lectures, I'll have lab sessions, where I complete an activity set by my lecturers along with a lab partner or a group of students. This can be anything from working on a device to allow the rifle society to practice their aim without shooting, to learning how information can be stolen from a chip by looking at the amount of power it's using. Next, I'll have lunch (usually sushi or a wrap) with my friends, and go to societies – I do street dance, beekeeping, and volunteering, so it could be anything depending on the day! My day then repeats with lectures or labs, and then I go to more societies in the evening (or go to a talk or other activity) and then go home and cook myself some dinner…since I'm still a student, this is usually pasta 😀
My Interview

How would you describe yourself in 3 words?

Eager to learn!

What's the best thing you've done in your career?

Getting a UKESF Scholarship with UltraSoC and having a summer internship with them, it's definitely one of the most exciting things I've done since leaving school.

What or who inspired you to follow your career?

My parents and close friends, who supported me and believed I can do anything I set my mind to - and that was engineering!

What was your favourite subject at school?

Art and maths.

What did you want to be after you left school?

Electronic engineer (yay!), Computer Scientist...or Architect?

Were you ever in trouble at school?

Nope! I was too scared to do anything bad in school!

If you weren't doing this job, what would you choose instead?

I'd either be a computer scientist, or something entirely different like an artist or a games developer!

Who is your favourite singer or band?

Hard to say, I prefer movie and game soundtracks.

What's your favourite food?

Mochi! I love peanut-flavoured mochi...

What is the most fun thing you've done?

Gliding. There's nothing quite like literally flying through the air.

If you had 3 wishes for yourself what would they be? - be honest!

Realistically...more sleep, less stress, and a tiny kitten!

Tell us a joke.

How did Benjamin Franklin feel after discovering electricity? He was pretty shocked!
---