Profile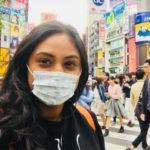 Reshma Vora
Curriculum Vitae
Education:

Qualifications:

BSc Aerospace Technology with Management

Work History:

Muirhead Avionics – Flight Data Engineer, Teledyne – Project Engineer and NAVBLUE

Current Job:

Product Application Specialist – RAIM

Employer:

NAVBLUE An Airbus Company, is in partnership with Airbus. They are based in Toulouse with offices in London and Waterloo as well. NAVBLUE provides products which include solutions for flight planning, aircraft performance, aeronautical charts, crew planning and navigational data.
About Me

Just a lady who is a little AeroNAUGHTYcal

Read more

I live on my own in West London, and enjoy getting out on my bike, and taking pictures with my SLR. I have a passion to travel; this year alone, I have been to Barcelona, Toulouse, all over Japan, and planning my next trip to Cappadoccia in Turkey end of November.

I'm generally an outgoing person but I do love my TV, right now I'm following The Great British Bake Off and The Apprentice, but South Park is the one for any dull day.

My Work

I Work for NAVBLUE which is part of Airbus as a Product Application Specialist

Read more

I'm a specialist for RAIM, which stands for Receiver autonomous integrity monitoring. RAIM is used to predict the availability of GPS in any given location. So in aviation, it's used to help pilots navigate using GPS.

My role, involves setting up the customers on our software, training them on how to use it and finally supporting them with any day to day issues that may occur.

My Typical Day: There is no typical day

Read more

Everyday is different, which is why i enjoy my job. Generally, I get into work by 8am, I have to work through a series of support tasks; this can be a range of things from, forgotten passwords (boring!!) to system not working. I may also have to set up new customers and attend meetings about growing the product. I travel often, usually to meet customers who require training, this gets me meeting customers which I love, and I always make sure I have time to do a little sightseeing too. I'm also involved in our companies social committee, because yes, work should be fun! We spend more time at work than anywhere else, so every month we have an event of some sort, which I need to arrange with the help of 5 other members.
My Interview

How would you describe yourself in 3 words?

Bubbly, Fun, Active

What's the best thing you've done in your career?

Trained Air Traffic Controllers in Bulgaria

What or who inspired you to follow your career?

My extended family are mostly enigneers, so I was almost born into it

What was your favourite subject at school?

German

What did you want to be after you left school?

An Air Traffic Controller

Were you ever in trouble at school?

No, I was a good girl

If you weren't doing this job, what would you choose instead?

An Astronaut

Who is your favourite singer or band?

Katy Perry

What's your favourite food?

Cherries

What is the most fun thing you've done?

Skydived in Dubai

If you had 3 wishes for yourself what would they be? - be honest!

Never doubt myself, My own private jet, and a BMW I8

Tell us a joke.

What did the cheese say when he looked in the mirror? Halloumi
---