Profile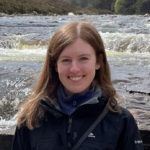 Emma Farquharson
Curriculum Vitae
Education:

The University of Aberdeen

Qualifications:

I'm from Scotland so at school I did Highers (Maths, Chemistry, Physics, Biology, Music, English) and Advanced Highers (Maths, Applied Maths, Chemistry, Physics). At University I completed a Masters degree in Chemical Engineering.

Work History:

Summer jobs as a Housekeeper in a hotel and a Receptionist in A&E. Summer internships with Halliburton and bp. Graduate scheme and full-time position at bp.

Current Job:

Employer:
About Me

I live up in the (sometimes sunny!) North East of Scotland 🏴󠁧󠁢󠁳󠁣󠁴󠁿. I'm a Process Engineer 👩🏽‍🔬 during the day, and outside of work I love listening to music 🎵, playing the piano 🎹, and hanging out with friends 😊.

Read more

I really love music whether that's listening to it or playing it. I enjoy learning to play different music on the piano from classical, to Disney and musicals!

I also try and meet up with friends whenever I can – going out for walks in the surrounding countryside (when it's sunny!), catching up over food, or trying something different (most recently ping pong – definitely didn't play by the rules but was lots of fun!).

My pronouns are

she/her

My Work

I'm a Process Engineer 👩🏽‍🔬 working in the North Sea Region to help keep our offshore operations safe 👷🏽‍♀️and reliable ✅.

Read more

I completed a 3 year graduate scheme after University, which I have recently finished, which allowed me to experience different roles in the business.

I spent the first year in my job working offshore on one of our assets where I got to see the equipment we use for processing fluids (oil and gas) first hand, help maintain this equipment, work to help reduce emissions on the plant and to make sure we were operating safely.

A large part of my job focuses on safety – this is the number one priority. When I came back onshore, my next couple of roles focused on assessing and managing risks on our offshore platforms, working to keep our people safe.

My current role looks at reliability, basically if something is not quite right with a process or piece of equipment offshore I look to understand exactly why it has happened as a quick fix may get things running again, but we really want to make sure the issue doesn't repeat itself in the future!

My attributes

Curriculum link

My Typical Day: I wake up and have breakfast (Weetabix usually with the chocolate chips) 🥣, before heading into the office for around 7.30 - i like to start work early so i can finish early i the evening! ⏰ I'll get on with my work 📑 and various meetings 👩🏽‍💻 throughout the day, having lunch 🥪 with my team at around 12pm and leaving around 4pm.

Read more

It's difficult to describe a typical day in my job, as there isn't really one! When i worked offshore I was working 12 hr shifts for three weeks on the platform, but then would have 3 weeks holiday. Now back in the office (with some days working from home) my start and finish time change depending on what suits me as we work flexibly – basically managing your own time, so you have certain hours to work, but you can start/ finish earlier or later on different days depending what suits you best.

The work I do is also very varied, but i will spend my time doing things like calculations, looking at data, report writing, running workshops with teams, and having meetings to discuss what we're working on and how to progress it.

What I'd do with the money

I'd love to be able to donate the prize money 🏅 to an initiative 💡 helping to support young people in their career development 👩🏼‍🎓📈.

Read more

I'd like to donate the money to a cause which can help support young people in career development through providing opportunities to learn more about possible careers and help young people realise their potential (such as Career Ready which provides schools students with mentors and work placement opportunities).
My Interview

How would you describe yourself in 3 words?

Happy musical engineer

What's the best thing you've done in your career?

I think probably working offshore - it was a really amazing experience!

What or who inspired you to follow your career?

My family supporting me to find something I'd enjoy doing

What was your favourite subject at school?

Maths was probably top, but i also loved the sciences and music

What did you want to be after you left school?

I had absolutely no idea, so I tried to follow a path based on what i enjoyed doing

Were you ever in trouble at school?

Not really, although I did have a bit of a reputation in the science department after some disastrous experiments!

If you weren't doing this job, what would you choose instead?

I love being able to help people so I think probably something in medicine/ care.

Who is your favourite singer or band?

Honestly I like variety - i get bored listening to the same things over and over again.

What's your favourite food?

I love food a lot so this changes all the time, but at the moment I'd say lasagne!

What is the most fun thing you've done?

I've fed a reindeer before which was pretty amazing, like me they love their food!

If you had 3 wishes for yourself what would they be? - be honest!

Be healthy, happy, and then maybe something like travel the world with friends and family - that would be pretty cool!

Tell us a joke.

For an optimist the glass is half full, for a pessimist the glass is half empty, for an engineer the glass is twice as big as it needs to be
---