Profile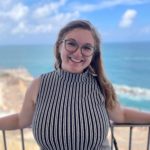 Veronica Pisani
Curriculum Vitae
Education:

The University of Alabama

Qualifications:

Bachelors of Science in Mechanical Engineering

Work History:

Babysitter and nanny, McDonald's and Dairy Queen crew member, working for a professor in college, technical co-op (intern) for Southern Company (electric utility), college orientation leader, Rotating Equipment Engineer at bp

Current Job:

Pipelines Facilities Engineer

Employer:

bp
About Me

I live in Chicago with my boyfriend and my cat. I'm a big American football fan, and I love listening to podcasts, spending time with friends and family, and trying new local restaurants.

Read more

My pronouns are

she/her

My Work

I am the go-to mechanical engineer for bp's US-based crude pipelines.

Read more

As Pipelines Facilities Engineer, I support three crude pipelines operations teams across the US Midwest for bp's Terminals & Pipelines business.  My days vary widely, and I work from the office, home and our field operations.  Some of my tasks include helping operations buy and repair equipment, updating drawings, running annual calculations for regulatory/legal reasons, and representing operations in project discussions.  I also am involved in bp's women's organization and in a social responsibility side project.

I love what I do for many reasons.  The people I work with are amazing, and I love that my work is so collaborative.  If you would have told me as a student I would do group projects for a living, I would not have believed you.  I also love the variety in my day and that I can make time to learn new skills (like how I'm learning hydraulic modeling right now).  I get to support my field teams and project managers in every stage of work, and I like knowing the secrets of energy infrastructure.

I joined bp in June 2019 as part of the early careers graduate program.  I started as a rotating equipment engineer (pumps and motors – the machines that make the pipeline "go") before transitioning to my current role in January 2021.  I graduated the early careers program in July and retained my current role.

My attributes

Curriculum link

My Typical Day: I wake up and grab a coffee on the way to the office (iced Americano). I get to work between 8 and 8:30 and start the day with a team call. Every day is different for me - sometimes I trade the office for the field, other days I'm in the office on phone calls or doing calculations at my desk! I head home around 5pm and depending on the day I go to spin class, run errands, or go out for dinner.

Read more

I work from the office or field three days per week, and I work from home the other two days.  I work in bp's downtown Chicago office, so my schedule is pretty typical for any office job (about 8am to 5pm), and I have flexibility if I have an early call or want to catch an afternoon workout class.  My days can vary wildly because I support yearly tasks and the urgent and immediate tasks for operations.  One thing is constant – since I work in bp's pipelines business, we don't have just one office or plant where my team works.  This means I'm on the phone a lot, either calling technicians individually or on conference calls working through issues.  Everything we do is to support safe, reliable, and compliant operations and keep our pipelines running so bp's Whiting Refinery can keep producing refined products like gasoline and diesel.

What I'd do with the money

I would use the prize money as a scholarship for other students to attend engineering camp like I did

Read more

I had no clue what an engineer did until I was 13 and attended an intro to engineering summer camp.  I would attend two more engineering camps before graduating high school, and these programs were crucial for engineering even being on my radar as a career path.  Many of the engineers I know have parents or siblings who are engineers, but I don't, and I would never have the life I have without these camps.
My Interview

How would you describe yourself in 3 words?

pipeliner and cat mom

What's the best thing you've done in your career?

Working hard at my job and keeping up with my mental health

What or who inspired you to follow your career?

Attending engineering summer camp at The University of Wisconsin when I was 13

What was your favourite subject at school?

Math or anything music-related

What did you want to be after you left school?

I wanted to work in cybersecurity or become a pathologist

Were you ever in trouble at school?

Nope, that was my brother's job

If you weren't doing this job, what would you choose instead?

I think I would still work in energy but on the regulatory or financial side

Who is your favourite singer or band?

Taylor Swift

What's your favourite food?

Popcorn

What is the most fun thing you've done?

Two-week trip to Japan between college graduation and starting at bp

If you had 3 wishes for yourself what would they be? - be honest!

1) stay healthy 2) be a good dancer 3) make my cat immortal

Tell us a joke.

Did you hear about the restaurant in outer space? Great food, but no atmosphere!
---